Katherine Hough is an actress, who is known for appearing as a backup dancer in a cowboy dance scene in the 2011 movie, Footloose, where her sister Julianne appeared as one of the lead roles.
Apart from being an actress, Katherine is also a proud sister of her two renowned siblings, Derek Hough and Julianne Hough who are both dancers, actor, and singers.
Katherine Hough Bio, Age
As per her bio, Katherine Hough was born to parents Marianne Hough and Bruce Robert Hough. Her father Bruce is a senior advocate at Nutraceutical Corporation and is also the co-founder and President of Emeritus, whereas her mother Marianne, is an artist. Bruce is also a member of the Republican National Committee. He was elected as the chairman of the Republican Party of Utah twice in a row.
Katherine was raised in Orem, Utah alongside her siblings Sharee Hough, Marabeth Hough, Julianne Hough, and Derek Hough. Katherine comes from an American nationality and stands at an average height. Katherine who celebrated her birthday recently has now turned of age 35.
Don't Miss: Yvette Nicole Brown Weight Loss, Husband
Her parents got divorced due to a conflict of interests when she was young. She and her siblings had to get separated as Katherine and Julianne went on to live with their mother while Marabeth, Sharee and Derek started to live with their father.
It was a tough time for the Hough family, but the siblings met up from time to time to spend some bonding moment with each other. After all of them grew up, Katherine got closer with her brother and sisters, showing that nothing can separate siblings who are best friends from birth.
Katherine Hough Wedding With Husband!
Katherine Hough's love life has gone through many ups and downs. She was married to her husband Tony Phillips with whom she welcomed two children, Adilynn and Ariana Phillips. Though the details on their divorce were never disclosed, Katherine and Tony ended their marriage amicably; Tony visits his daughters from time to time.
Katherine ended up finding love after some time of her divorce. She met T.J. Drechsel after their mutual friends introduced them to each other. T.J and Katherine started to date, and soon after that, Katherine got pregnant with his child.
The couple got ready to welcome their baby together and was already excited, but Drechsel ended up adding more happiness in Katherine's life after he proposed to her in Cannon Beach, Oregon on 25 September 2017. Katherine obviously said yes and shared the great news with her fans.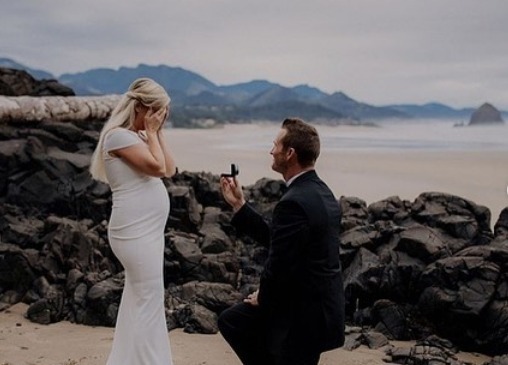 Katherine posts a happy one-year engagement picture with T.J. Drechsel on 25 September 2018 (Photo: Katherine Hough's Instagram)
Soon after that, Katherine and Drechsel welcomed their first baby and Katherine's third, Avery Phoenix.
See Also: Josh Wiggins Wiki, Age, Parents, Dating
The family turned from four to five, and Drechsel loves Adilynn and Ariana like his own. The wedding is expected to take place soon.