It is justifiable to introduce Jade Anouka as an emerging star in the acting field. 
She is gradually stepping up to the list of prominent English actors with her first lead role in ITV's Cleaning Up.
But, her immense struggle to become a lead actress is not an easy one. 
She had to wait many years to upgrade herself from minor roles in TV shows and stage drama to get a lead role. Being a black actress made her journey more challenging.
Jade Anouka's Net Worth - Movies, TV Shows
From the beginning, it was hard for the versatile actress and poet, Jade, to catch up acting as a career. 
First of all, she pursued a career in a completely different field from her family members; everyone from her family established a career in maths or science field. 
Secondly, she had financial burden since the acting income couldn't meet her expenditures.
So, she used to have three jobs in a day. She did shoe shining in the morning, then worked in a pub or cafe in the afternoon and then in a call center in the evening. 
Discover:- Patina Miller Husband, Children, Family, Net Worth
Furthermore, as a black actress, it was very challenging for her to get a lead role in the white-dominant English entertainment industry. She used to get minor roles only. 
Although the world seemed against her, she stepped into the entertainment industry with her theatrical debut in 2007 with a role in Margaret Atwood's The Penelopiad.
In 2010, 2012 and 2013, she took minor roles in Law and Order: UK, Secrets and Words, and Doctor Who respectively.
Following the success, she won a Fringe First award for her one-woman show, Chef, at the Traverse in 2014.
Furthermore, in 2018, Jade performed a lead role as warrior queen Margaret in the theatrical production of Shakespear's Margaret of Anjou.
She also took part in another theatre drama, The Phlebotomist. In the same year, she acted in the movies like Fisherman's Friend and The Vote.
Although she had excelled in theatrical dramas and minor roles in movies and TV series she was not regarded as a successful and prominent.
She grabbed both in 2019 when she got a lead role in ITV's series, Cleaning Up, where she portrays as a hard-working and inspiring woman.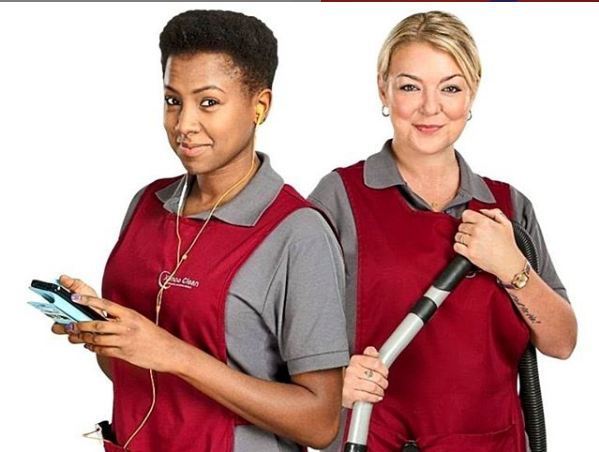 Jade Anouka with her co-star, Sheridan Smith, in Cleaning Up (Photo: Jade Anouka's Instagram)
Besides acting, Jade started writing and performing poetry on stage. She has published a volume of her poems named Eggs on Toast in 2017.
With her leading role in Cleaning Up and Netflix series Turn Up Charlie, it is obvious that she must be making a good earning.
However, she has not unveiled her exact figures of income and net worth yet.
Jade Anouka's Bio: Age & Family
Jade Anouka was born in 1990 in Slade Green, London. She possesses a height of 5 feet and 5 inches (1.66 meters). 
Jade is the second of the three children born to her parents, Jamaican father, and Trinidadian mother. Her mother worked as a Maths teacher and her father as a financial teacher.
Further, her brother and sister established their career in the science field, leaving Jade as a complete anomaly in her family. 
The actress spent her childhood in Bexleyheath and went to a grammar school in Bexley, London. In the school, she was one of the few students from African family.
So, during the final years of high school, she transferred to Lewisham.
You May Like:- Nichole Galicia WIki, Age, Married, Parents
Shortly after completing high school in Lewisham, Jade realized that acting was all that she could do.
So, with mind obsessed with acting, she was able to win a scholarship to the National Youth Theatre.
After that, she went to Guildford School of Acting for graduation and from there to the Royal Shakespeare Company (RSC) where she earned a degree in teaching Shakespeare.
Married To Husband / Boyfriend?
The 29-year-old actress has not revealed any details of her married life and husband yet.
However, previously in a tweet of 2012, she mentioned about her marital status. She revealed that her husband was a huge fan of Springsteen.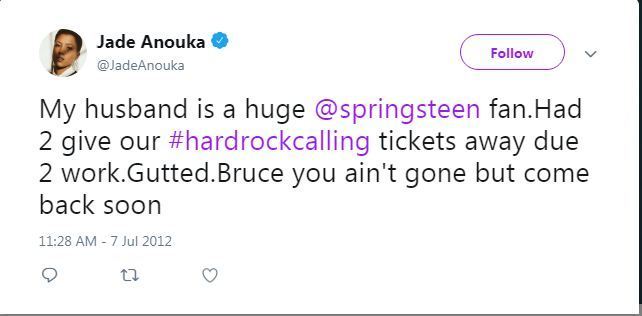 Jade mentions husband on a tweet on 7th July 2012 (Photo: Jade Anouka's Twitter)
But, since then, she hasn't revealed any information about her stated partner.
Due to her privacy, her marital status is unclear as of now.
Additionally, she has not left any traces of her past boyfriends (if she had any) and her dating status.