When Calls the Heart, the binge-worthy American drama series, got the fans hooked on the undeniable on-screen chemistry that Erin Krakow's character, Elizabeth, had with the character Jack, played by Daniel Lissing. 
With her astounding portrayal in the Hallmark series, Erin Krakow captured several fans' hearts who desperately wanted the on-screen couple to be together for real. But, did that wish come true?
On-Screen Chemistry Between Erin Krakow and Daniel Lissing 
To any romantic story fanatic, the romantic flare between Elizabeth and Jack's characters must have been like fruit from heaven. The captivating drama, which circulated mainly around those characters, has dominated the tv screens since 2014. 
As the drama progresses, the two characters begin to grow fond of each other and eventually fall in love. Taking a step further, the two get married around season 5, but a tragedy befalls Elizabeth when Jack dies in the later episode.   
Krakow and Lissing perfectly justify the characters with their amazing portrayal, but mostly through their bond with each other. Over the years of filming together, the most anticipated tv couple had established amazing friendship off-screen and were often seen appearing on one another's Instagram. 
However, some fans assumed they had been dating for real, but no matter how close they seemed, the couple never admitted to having been in a relationship off-screen, and their mesmerizing love story remained limited to the screens only. 
As for the stars' real-life love story, Krakow hasn't revealed if she is in a relationship, while Lissing has found his love, Nadia, with whom he is soon set to be married.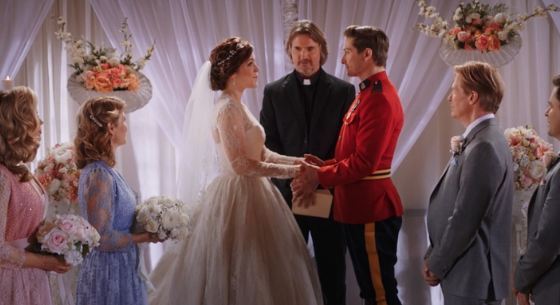 Elizabeth and Jack's wedding scene from the series. (Source: Instagram)
Krakow Keeps the Romance Alive With the Season 8
Well, Elizabeth's love story doesn't end there. Although she lost her husband in the earlier season, the story has another character to fill in the shoes of John and protect Elizabeth and her son with John. 
The fans felt betrayed when the writers cut off John from the story just when he and Elizabeth had only begun their journey together. But, the drama got even more intriguing with the introduction of two new characters Nathan and Lucas, who have a love interest in Elizabeth. With the plot twist, fans were curious about what the future awaited for her.
Proceeding with the story, the Hallmark series currently aired season 8, where Elizabeth finally put an end to the love triangle and picked Lucas. The fans rooting for Nathan might have been disappointed, but all in all, the season ended on a happy note for Elizabeth.