Ebony Obsidian never preplanned to be an actor or even dreamt of it. She instead saw her future in singing, forever hyped by her passion for music.
It was just some trick of time that she plunged into the entertainment world of acting and putting on a show.
On a particular day, she was listening to some program on the radio- which she never did.
There, she heard about an ongoing audition in the city nearby. And, without any thought over it, she found herself on a stage in front of some thousand people acting aloud her monologue.
This very experience in her life felt so new, scary, and exciting all at the same time.
And, right then and there, her 12-year-old self realized that she needed to do something about her newfound love!
Ebony Obsidian Wiki / Bio: Age, Parents
In a rush to make a name of herself in Hollywood, Eboni graduated from her high school early on, all the while saving up the dollars which she might need in the days to come.
Soon, she was done packing her goodies and left for New York City from the upstate New York.
Keep Reading: Brenda Bakke Net Worth, Family, Now
While in there, along with all the prep-talks, she studied at the conservatory named The William Esper Studio.
And, today, Ebony sure gets to enjoy the fruits of her ceaseless endeavors.
Several notable credits in several movies and TV shows, however, she is best recognized for playing 'Michelle' in Netflix's Master of None Season 2.
And, interestingly, the very 'Thanksgiving' episode won the Outstanding Writing for a Comedy Series Primetime Emmy Award in 2017.
Ebony, now age 25, born and raised in the small town of New Paltz, New York, is not the kind to mix her personal and professional space.
For some reason, she is hesitant to spill the beans to her childhood memories and parents.
But then, a brief digging into her social media accounts, and she tweeted about being a "motherless child." And the mystery stays as such- without any confirmation.
Ebony Obsidian Dating Boyfriend?
The Indie world queen, standing tall to a height of 5 feet and 6 inches (1.68 meters), continues to grow as a human as an actor.
She sure puts her life motto loud and clear- "good things come to those who wait, great things come to those who don't."
Ebony might have applied her theory in all aspects of her life, even her dating life.
For now, there is nothing worth gushing in regards to her romantic relationships.
At a time like this, not even her internet gallery gives away any clue.
Discover: Ashley Aufderheide Wiki, Parents, Dating, Net Worth
In the meantime, when Eboni is busy making her career, maybe it is better that we enjoy her onscreen chemistry with handsome co-stars, with the hope that she would definitely come up with the big announcement soon enough.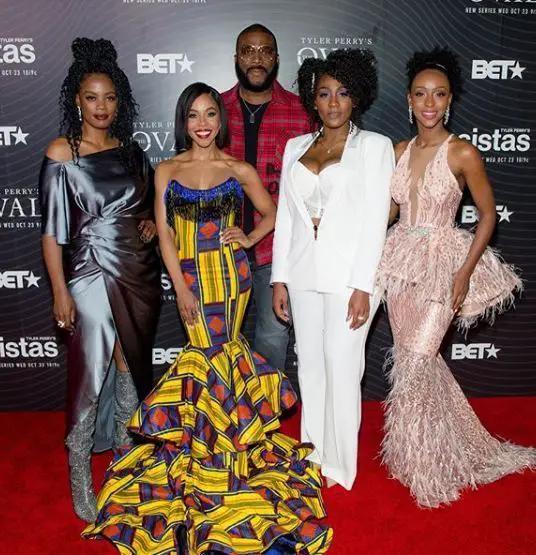 Ebony Obsidian with the cast of 'Sistas' at the Atlanta, Georgia red carpet on 23 October 2019 (Photo: Ebony Obsidian's Instagram)
While today, Ebony is more excited about her very recent and highly awaited release, the television comedy-drama, Sistas, dated to air in BET on 23rd October 2019.