Darby Camp is best known for portraying Chloe Mackenzie in the 2017 HBO miniseries Big Little Lies, Sky in the 2014 film The Summer Sisters, Frankie in the Netflix film Benji, and Kate Pierce in Netflix's The Christmas Chronicles.
Darby Camp's Bio- Birthday & Family (Parents)
Darby Camp was born on 14th July 2007 to Clark and Lacy Camp in Charlotte, North Carolina, the US. Her father is an assistant coach of North Mecklenburg boys' and a career and technical education coordinator. Her mother is a North Mecklenburg graduate and a former teacher who studied dramatic arts at UNC Greensboro. Her mother wanted to join acting after college but had trouble breaking in.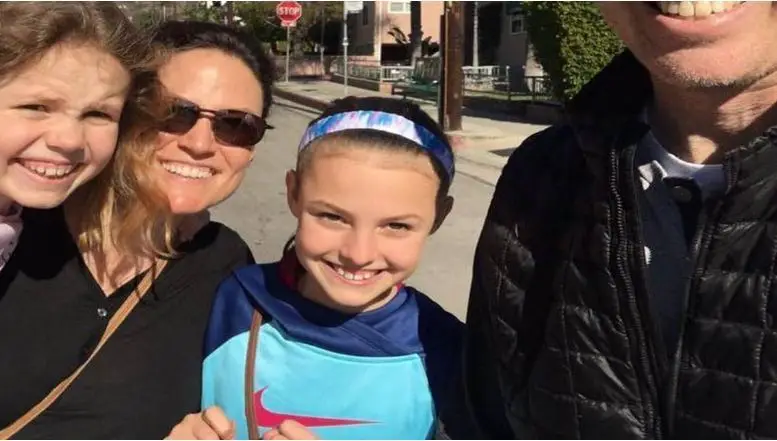 Darby Camp with her family in December 2016 (Photo: charlotteobserver.com)
Darby also has an older sister named Ruthie in her family.
Movies & TV Shows
From a small age, Darby was very imaginative and self-confident—she first got her start in acting when she was just a toddler. Her mother Lacy noticed her talent and asked her agent to begin submitting her for roles. In 2013, Darby got her earliest role on TV series Door to Door as Screaming Child 2. A year later, she booked her first job for Drop Dead Dive at the age of six as Daisy Bowen. The series is about a vapid aspiring model who was killed in a car crash. However, she gets brought back to life as an intelligent, overweight lawyer, hoping to find the meaning of inner beauty.
Another Child Actor: Cassady McClincy Wiki: Age, Ethnicity, Family Details, Movies & More
After Darby's first break, she got a chance in the TV movie The Summers Sisters as Sky. Further from 2015 to 2017, she portrayed the role of Young Patti Levin in the series The Leftovers. Soon after completing the series, in the year 2017, Darby played Erin Miller in Grey's Anatomy and Big Little Lies as Chloe Mackenzie, on-screen daughter of Reese Witherspoon (2017—2019). Moreover, in the following year, after the series, she worked in four movies Benji, The Christmas Chronicles, When We Last Spoke, and Dreamland.
Now, in 2020, she has completed her work in Calm Before, filming for The Christmas Chronicles 2, and Clifford the Big Red Dog is still under post-production. 
Quick Facts
Darby's grandfather severed in the US Army during the late 1960s.
Her grandfather passed away a year before she was born.
She wished her father Clark on his birthday on 27th July 2019.
She wisher her mother Lacy on her birthday on 11th September 2019.
Darby, her sister, and father wished Lacy on Mother's day on 14th May 2017.
Darby attended school at the Community School of Davidson for the first semester.
Her mother first submitted her for a local role when she enjoyed it.
While she travels for her shooting, she is provided with an on-set teacher.