Dalila Bela is one of the most famous child actors known for her spectacular role portrayal in movies and TV shows.
She is a multi-talented artist who has made herself a successful place in the entertainment industry.
The young star has already garnered several awards for her roles that has set a landmark for the future generation of actors.
Dalila Bela Age, Parents
The 5th October 2001 born Canadian television personality, Dalila Bela, is 17 years of age as of now. The Montreal, Quebec native stands at the height of 4 feet 11 inches (1.25 meters).
Her parents raised Dalila alongside her siblings. She grew up in the family of five including her little brothers, Bruce Salomon and Raphael Alejandro and their parents.
Don't Miss: Lonnie Chavis Bio Talks: Age, Net worth, Parents, Siblings & Facts
Dalila's brothers are also child actors, who have already made a considerable name in the showbiz industry.
In the time being, Dalila resides in Vancouver, Canada with her family, the support system of her acting career.
Dalila Bela Dating, Boyfriend
Dalila's family life stands like an open book to the audience. However, when it comes to her love life and relationship status, Dalila has been quite lowkey.
There is no dating history of Dalila known to the public. The reason for her secrecy regarding her relationship status might be her career.
Dalila is very young and is already at the peak of her career in the field of entertainment. Thus, she might be willing to focus on her career than having a boyfriend. Whatever the reason is, Dalila's fans respect her privacy as well as her public life.
Besides, Daniella is also an active social worker and stands out for LGBTQ+ rights.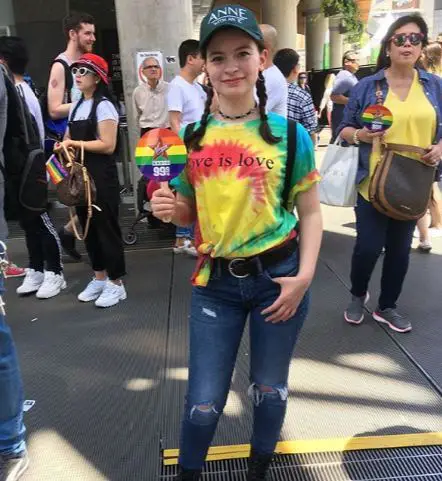 Dalila Bela attends the Pride Month campaign on 24 June 2019 (Photo: Dalila Bela's Instagram)
Hopefully, Dalila herself reveals her dating life to her fans and followers in the near future.
Her Net Worth In 2019 - Movies / TV Shows
Dalila started in showbiz at the early age of 5. She began in the industry with a commercial which helped her grab roles for her later shows in the entertainment industry.
See Also: Aymeric Jett Montaz Wiki: Age, Girlfriend, Parents, Height
Dalila's professional career in showbiz began in the year 2009, with her appearance in the TV shows, Fringe and Supernatural. She appeared as a guest star in both the shows.
Through the TV shows and movies that she has done, Dalila has made a massive name of herself. 
The most famous of her TV shows include Anne with an E, Once Upon a Time and Odd Squad.
Regarding films, Dalila has appeared as a supporting artist in the movies Grave Encounters 2 and That Burning Feeling.
As of 2019, Dalila is busy with her role in the 4th season of the 2015 series, Bunk'd.
Thus, from all her roles and appearances on TV shows, commercials as well as in the movies, Dalila must have already made a satisfying amount of property and net worth. No doubt, the hard-working star makes more significant amounts in the upcoming days.