Caprice Bourret is an American actress, reality television personality, entrepreneur, model, and what not!
She began her acting as well as reality television career in the late 90s after she relocated from her birthplace in Hacienda Heights, California to England.
Since then, Caprice has appeared in several small-screen and big-screen productions, including Hollywood Files, Dream Team, Celebrity Big Brother, and its companion shows. Also, she has appeared in 250 magazine covers including Vogue, GQ, Cosmopolitan, Maxim, FHM, and Sports Illustrated.
Not to forget, she also has her lines of swimwear, sleepwear, lingerie, and bedding.
Caprice Bourret's Age & Family
Caprice was born as 'Caprice Valerie Bourret' on the 24th of October in 1971.
Daughter of a Jewish mother, Valerie, and a French-Canadian father, Dale, Caprice embraces a mixed ethnicity.
Height
Caprice stands 5 feet and 9 inches (1.75 meters) tall.
Caprice Bourret Is Married Now- Husband
The Dancing On Ice star Caprice reportedly tied the knot to her partner, a British financier, as well as a reality television personality, Ty Comfort, at a London registry office in early-December 2019.
Another Celebrity Big Brother's Star: Georgia Harrison Wiki, Age, Dating, Family
Their secret wedding tales appeared just a few weeks prior to Caprice's Dancing On Ice debut in January 2020.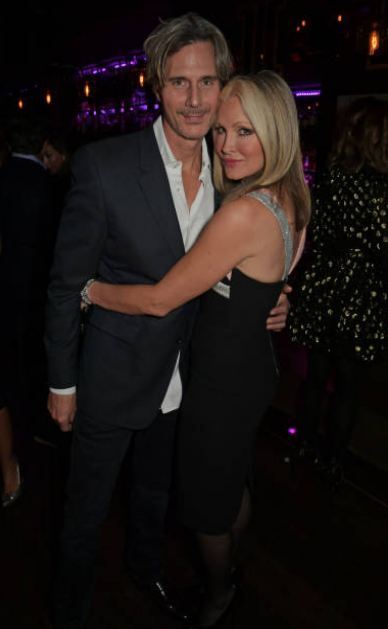 Caprice Bourret and Ty Comfort attend Lisa Tchenguiz's birthday party at Buddha-Bar Knightsbridge on 19 January 2019 in London, England (Photo: gettyimages)
Since Caprice is spending a lot of her time training for the show, it is believed the pair are not getting as much time together.
Last heard from Caprice; she was all hyped about dancing in front of the ITV's camera-
I've got some really big news. I'm going to be on Dancing on Ice 2020! At the moment no nerves. I'm excited more than anything.
The long haul couple met in 2001 after being introduced by a friend.
Children
Caprice is a mother of two sons, Jett and Jax, born almost a month apart.
Back in 2012, after one unfortunate miscarriage and three failed IVF attempts, she was told by fertility doctors that it was implausible for her ever to have a baby of her own.
Regardless of that, Caprice and Ty, without losing hope, hired a "gestational carrier" to give birth to their biological child. And, fortunately, this time, the luck doubled. Not only did their surrogate became pregnant, but so did Caprice, exactly a month later.
Miscarriage Related: Angelina Pivarnick Married, Engaged, Pregnant, Plastic Surgery, Net Worth
Then, in August 2013, they welcomed their first baby through a surrogate in a California hospital.
Again, less than a month later, Caprice herself gave birth to her second young one.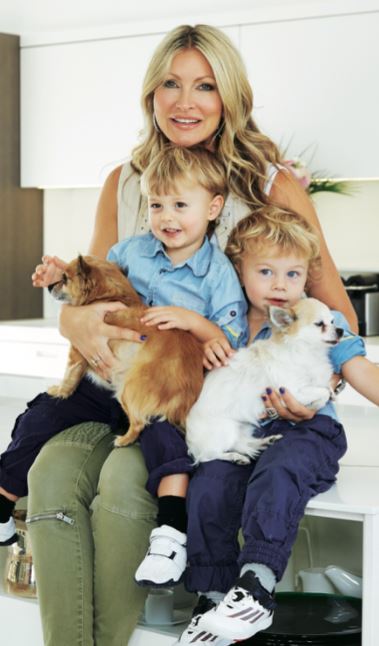 Caprice Bourret with her children, Jett and Jax, at their West London Home (Photo: gemmacalvert.co.uk)
Since becoming a mother of two, Caprice's perspective about her life has changed. As per Dailymail in October 2013, she had even admitted about how being a mother changed everything-
My babies are my entire world now. I have reinvented myself. I used to be a bit of a wild child, now I am a yummy mummy. My old life is gone.
Caprice loves her both kids, so she has opted to reveal which baby was born via the gestational carrier and which one she gave birth to herself.
Net Worth
As reported by Celebrity Net Worth in May 2014, Caprice valued a net worth of $30 million.
Back in 2008, the Variety had it advertised that Caprice was to sell her semi-detached and five-bedroom Victorian stucco-fronted family house in Notting Hill, London. The price for the property was allotted £7.5 million.