Alyvia Alyn Lind is a popular child actress known for her appearance in several movies and TV shows at such a young age. She commenced acting at the mere age of five; with every passing year, she only gets better. 
How has Alyvia managed to keep a balance between her professional career and personal life? Who inspired her to be an actress at this age and did her parents support her decision?
Alyvia Alyn Lind Bio - Birthday, Parents
Alyvia Alyn Lind celebrates her birthday on 27 June every year. Her bio reveals that she was born in 2007 in California, but she spent most of her childhood in Los Angeles.
\Acting is defined in her genetics as she is the daughter of American actress Barbara Alyn Wood, who has appeared in more than a dozen movies and TV shows. There's no doubt that Alyvia's inspiration is her mother!
Dive In: Aymeric Jett Montaz Wiki: Age, Girlfriend, Parents, Height
Holding American nationality, Alyvia Alyn Lind has two older siblings, Natalie, and Emily, who are about eight and five years older than her. It is awe-inspiring that all three Lind sisters are actresses. Being the youngest of the three sisters, Alyvia Alyn was well-exposed to the acting field, which helped her a lot to embark her career in the industry.
Alyvia's mother Barbara is very supportive of her daughters' careers and always encourages them to be the best. Alyvia Alyn shares an excellent bond with her sisters and parents and often posts pictures with them on social media.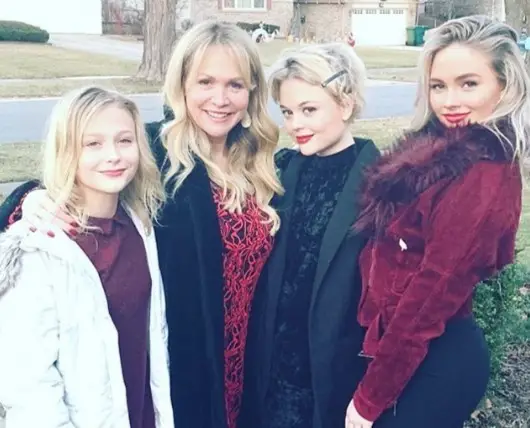 Alyvia Alyn Lind's mother shares her family photo on Women's day on 9 March 2019 (Photo: Barbara Alyn Lind's Instagram)
Talking about Alyvia's height, she is just 11-years-old, so her height is still growing. Even though she will be taller in the coming years, she is around 5 feet (1.5 meters) tall as of now.
Net Worth - Movies, TV Shows
She is notable for her portrayal of her role of Faith Newman on the soap opera, The Young and the Restless and Amanda Clarke in the TV show, Revenge. In 2014, she played in two movies, Blended and Mockingbird, which were the big hits. 
Peek Into The Life Of: Lonnie Chavis Bio Talks: Age, Net worth, Parents, Siblings & Facts
Her recent work includes acting as Angelica in Netflix's Daybreak. Alyvia Alyn is a successful star, and even at a young age, she has already managed to secure her place in the industry. She has won millions of hearts, and her fans expect to see more of her in the coming days.
Because Alyvia and her sister are very talented, some fans even expect that they will soon take over Hollywood!
Her impressive career has sure earned her a substantial net worth. Even though the exact figures for her salary are not known, she is expected to share the massive net worth of her mother.