Alexandra Vino is an American actress known for various significant roles in several movies and TV series.
Her film credits include Gender Bender, Lonely Boys, Amelia 2.0, and Mile 22, whereas her TV show credits are The Shakedowns and Rock In a Hard Place, among many others.
Apart from acting, she also writes and directs short films and music videos.
Additionally, she is a talented fine artist specializing in large scale works in the charcoal medium. Her artworks are auctioned to support non-profit organizations like Stop Poaching Now. 
Alexandra Vino's Bio: Age, Body Measurements
Alexandra Vino was born in New Jersey and as a native of New York City with Sicilian, Italian, and Russian descent.
When Alexandra was young, her grandmother used to take her to Broadway shows. Her interest in the entertainment industry grew from there and was enrolled in the summer theater camp, where she got her first acting training. 
You Make Like: Alistair Barrie Birthday, Married, Husband, Boyfriend, Parents, Bio
Later, she began training at the popular Actor's Studio in New York. She spent ten years excelling in her acting skills and also became a life member. 
Alexandra, 30, began acting with commercials in Manhattan, where she was a successful actress booking over twenty commercial gigs.
She reached the height of prominence only in 2010 when she was cast as an American dancer in director Parmeet Sethi's Bollywood crime comedy, Badmaa$h Company, featuring her opposite to Sahid Kapoor and Anushka Sharma. 
Alexandra made an entry in TV series portraying the recurring role of Lindsay in the series, How To Make It In America, in 2011. After that, she has played several significant roles in various TV series and movies. 
When it comes to her attributes, she has not provided any data on her body measurements. However, she stands at the height of 5 feet and 3.5 inches (1.61 meters). 
Is Alexandra Vino Dating Harvey Weinstein?
On 7th November 2019, Alexandra Vino was spotted by New York Post sitting on Harvey Weinstein's lap and repeatedly cuddling and wrapping her arms around him throughout the night at an exclusive Manhattan nightclub. 
The two were reportedly spotted when they were at Cipriani's Socialista lounge in SoHo, where Harvey was approached by many patrons praising his cinematic journey.
The place was the same where TV reporter Lauren Sivan accused Harvey of sexually assaulting in 2007.
Reacting to the widespread rumors about them, both Alexandra and Harvey have denied the rumors and claims of any romantic relationships between them. Alexandra further claimed that she had become the victim of media lies.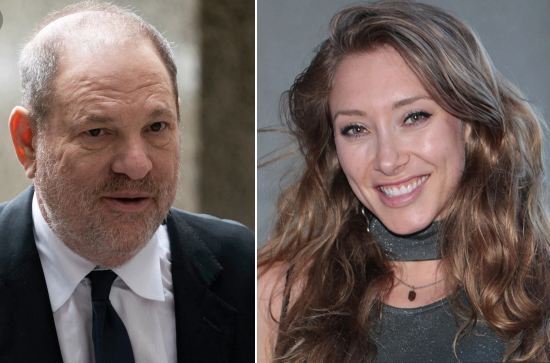 Alexandro Vino and Harvey Weinstein (Photo: Page Six)
Furthermore, the two were reportedly claimed to have met through Rose in 2018 and dated for several weeks.
Harvey Weinstein is a 67-year old ex-movie mogul known for films like Pulp Fiction and Gangs of New York. He was previously married to Eve Chilton from 1987 to 2004 and later to Georgina Chapman from 2007 to 2018.
Currently being mentioned by media as a shamed Hollywood producer, he has been alleged of dozens of sexual assault claims, including actress Annabella Sciorra's allegation of raping her in 1993.