As a young celebrity, African-American actress Ajiona Alexus became one of the most followed actresses possessing all the necessary qualities. She has made her appearance in many series, whereas, her best-known roles are in 13 Reasons Why, The Rickey Smiley Show, Acrimony, and Breaking In. 
She has garnered millions of followers as well as the attention of media through her skills and talent. Despite gaining fame at a young age, she is very down to earth and respects all the being. 
Ajiona Alexus' Bio: Parents, Background 
Born on 16 March 1996, Ajiona Alexus grew up in Tuskegee, Alabama. Even though Ajiona has not opened up about the identity of her parents, she does not miss to post about them in her social media account. As her American nationality is familiar, her ethnicity, however, is African-American.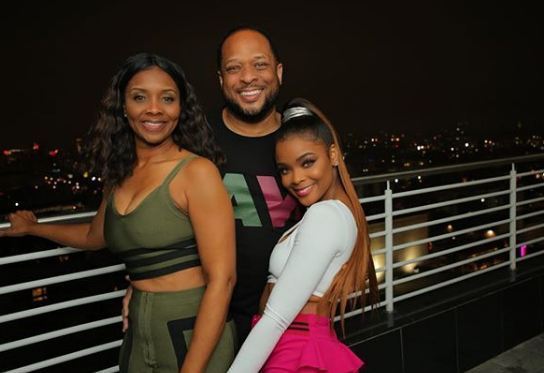 Ajiona Alexus with her parents on The Sayers Club on 23 April 2019 (Photo: Ajiona Alexus' Instagram)
Despite being brought up in a family background of singers and musicians, Ajiona's interest moved towards acting. At age eight, she recited her first monologue on stage, and her parents swiftly moved to equip her skills and opportunities to express her talents.
Recommended: Sofia Carson Boyfriend, Parents, Bio
They placed her in acting and dance classes and later she got enrolled at the Alabama School of Fine Arts, Theatre Arts.
Net Worth From Career
Ajiona began riding in her wave after her acclaimed performance of A Raisin In The Sun. To pursue her higher career, she began auditioning for roles. Soon at the age of fourteen, Ajiona landed on her first role in the featured film Unspoken Words. 
A few months later, she booked an audition for a recurring role on a TV sitcom. But just days before the start of the shooting, she received a phone call which informed her about the achievement of the part of DeAnna, on The Rickey Smiley Show. Up to date, her show has remained the major break in her career. 
Moreover, she has also starred in the shows like Chelsea's Way, Code Black, 13 Reasons Why, Runaways, Unspoken Words, My First Love, Family Blood, Breaking In and many more. 
However, she has not only limited her talents to acting alone. Ajiona has also done extensive work in music. She has opened up for artists like Diggy Simmons, OMG Girlz, TK N Cash, and IYAZ and has also released a mix-tape Dream Big. Currently, she is recording songs for her debut EP.
More About: Rachael Kathryn Bell Wiki, Height, Boyfriend, Family
Ajiona has spent a year long enough to be recognized in the entertainment industry by the people. Alongside achieving name and fame, she has also made herself financially stable. Even though she has not mentioned her actual net worth, she might be enjoying a considerable amount of money.
Ajiona Dating, Boyfriend?
The 23-year-old Ajiona is not married and does not even appear to do much dating either. However, during an interview with PruneMagazine.com, she opened up about her one date. She said that one sweetheart rented out a movie theatre and took her to see one of her favorite cartoon movies, The Incredibles. 
Nevertheless, besides that, nothing is known about her love life. She has also not been seen with any guy who can be identified as her boyfriend. As of now, she might be more focused on her career than having interest in love life.