People in the industry have often been heard saying that it is hard out there this year or the other. But as far as Vince Colosimo is concerned, it has "always been hard."
Although Vince, Australia's most recognized actors, experienced an extensive and successful career in theatre, television, and film, the "ride has never been an easy" one for him. 
Over the course of his career, he saw several roles come and go, but as some "door shut," the other ones "always opened." And, this positivity was what kept him going on! 
Vince Colosimo's Wiki: Age, Sister / Family
Vince was born as Vincenzo Colosimo on the 6th of November 1966 in Melbourne, Australia. 
Continue Reading: John Thomson Bio, Wife, Children, Net Worth
His mother, Lina, who worked in a factory from the age of 13, raised her kids- Vince, his twin brother, Antonio, their elder sister Rachelina and a baby sister, Veneranda. 
The family lived to the worst memories of Veneranda's cot death. While Vince was only five at that time, he still remembers his "mother screaming" like it was only yesterday. 
Vince Colosimo's Girlfriend?
In early January 2019, some sources claimed that Vince was in a secret relationship with a woman named Sabella Sugar for 'several months.'
The Sunday Telegraph even reported the rumored couple rang in the New Year together in Melbourne.
They said Vince and Sabella were seen among a crowd of partygoers, and as they stepped out of the New Year's Eve party, they were all excited.
Not much was heard of them until Vince started appearing on Sabella's Instagram, although only a few times.
Back on 3rd November 2019, they also attended The Faceless Man film premiere.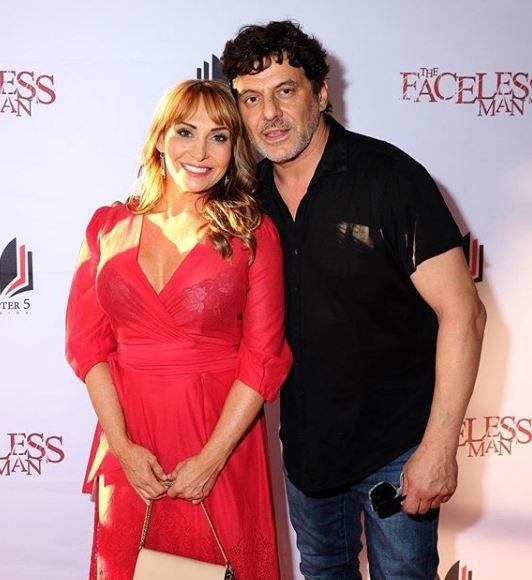 Vince Colosimo attends The Faceless Man film premiere with Sabella Sugar on 3 November 2019 (Photo: Sabella Sugar 's Instagram)
Plus, Sabella, sharing the very moment of them on social media, sure made everyone believe that there indeed was something going on between the supposed couple.
Was Once Married To Wife!
Vince was previously married to Jane Hall, an Australian actress, comedian, writer, and presenter.
The two met back in 1994, and for eleven long years, they were together; they got married but eventually settled for a divorce in 2007 after going through a bitter property dispute.
Explore This: Adrian Holmes Married, Net Worth, Family
However, continuing enmity was never an option, mostly because of their 18/19-year old daughter Lucia.
From what it appears, even in the present time, the estranged duo maintains a functional equation, sharing the parenting responsibility of their young one.
After Jane, Vince found himself falling for yet another Australian beauty, also an actor, Diana Glenn. They dated for eight long years, welcomed a son by the name of Massimo.
Net Worth
Vince first came to prominence for his feature films, Street Hero (1984) and Moving Out (1983).
Playing in the projects earned him an AFI Award nomination for 'Best Actor' and a Sydney Film Critics Circle Award for 'Best New Talent.'
More of his famous filmography credits include The Great Gatsby (2013), and Body Of Lies (2008) alongside Leonardo DiCaprio.
All in all, Vince reportedly made a net worth of $300K. It appears some part of his finance remains still undiscovered. Last claimed, he was the part-owner of the Expresso Alley café.