Being cast as 'Ichabod Crane' in the American television series, Sleepy Hollow (2013), did wonder in Tom Mison's professional life. 
Within a year, he went on from being an unknown actor to a television star. 
The show not just landed him good reviews but also won him a nomination for Teen Choice Award (2014) and even three other nominations in the same year for the TV Guide Award. 
Tom Mison's Wiki: Height, Family 
Tom, born on the 23rd of July 1982, stands tall to a height of 6 feet and 1 inch (1.85 meters). 
Tom's journey as an actor started early, all thanks to his parents, a sports marketer and a former dance teacher. 
Keep Reading: TENET's Himesh Patel Dating Life And Family Details, Who Is Girlfriend?
The pair encouraged their son to do theatre with the purpose that it would keep him from getting into trouble. 
Tom shared the tale of how his parents sold their car so that they could send him to Hurtwood House, a performing-arts school. 
Playing 'Phillips' in HBO's Watchmen
In Watchmen, Tom portrays 'Mr. Phillips', a series of male clones of the original Mr. Philips, serving as Adrian Veidt's clone servants.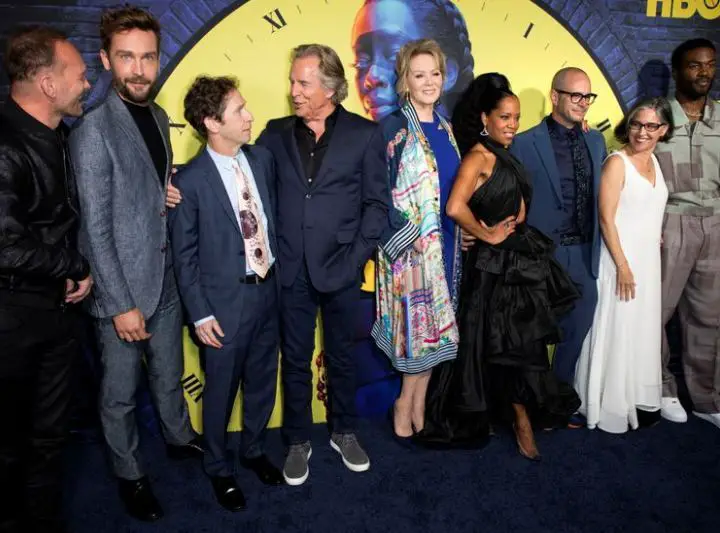 Tom Mison, alongside his cast members, arrives for the premiere of the HBO series Watchmen in Los Angeles, California on 14 October 2019 (Photo: gulfnews.com) 
Speaking with The Hollywood Reporter in October 2019, he was quick to comment on his nude scenes in the superhero series.
He revealed that he was grateful that his body double did it for him, spending about four hours being "raised and lowered, naked," completely painted blue.
Married To Wife?
Tom, the most admired actor on the small screen, has long been off the market!
He is married to fellow actress and writer Charlotte Coy, known for Canbury (2008), Hell's Pavement (2009). The gorgeous who manages to keep a low profile, last confirmed by PEOPLE, was into buying and selling antiques and other vintage goods for her company, Dotty Pigeon, in 2014.
Get Word: Jacob Ming-Trent Wiki, Age, Family, Is He Married?
It was back on the 2nd of June 2014 when the couple tied the knot over a small, intimate, and outdoors family and friends gathering.
Interesting Facts About Tom Mison!
His first name Tom is the short form for 'Thomas,' which is an Aramaic name, translating to "twin."

He comes from the town of Woking, a part considered as the commuter belt of London.

He studied acting when he was still in school, later training at the London's, Webber Douglas Academy of Dramatic Art.

During his stay in the singing school-turned-drama school, he played 'Mr. Darcy' -a famous Jane Austen's character. He also portrayed 'Mr. Bingley'- yet another character from the novel Pride and Prejudice, in the miniseries, Lost in Austen (2008).

The Way of the World (2018) star has always been a "history buff." History was one of the few subjects at school that "really, really caught" him.

Surprising as it may sound, he has done plenty of work as a voice actor, contributing especially to BBC's radio productions.