American actor and rapper, Shawn Fonteno is mostly known for voicing and acting over the game character named Franklin Clinton from the video game Grand Theft Auto V. His performance in Grand Theft Auto V was recorded using motion capture technology.
Shawn Fonteno's Age, Movies, Songs
The actor was born on 8 April 1968 as Shawn Darnell Fonteno in South Los Angeles, California. But he was raised in Watts, Los Angeles. At the age of 50, he stands at the height of 6 feet (1.83 meters).
Before his career was set out, Shawn was involved in several gang activities; he even sold drugs. Everything that his character Franklin did in GTA V was more or less the things Shawn did in his early teenage years. But, it was a near-fatal shooting, that triggered him to seek a career in acting and music.
Read Also: Marc Lamont Hill Married, Wife, Daughter, Family, Gay
He was searching through music and movies when a friend DJ Pooh asked him to help in Rockstar Games. DJ Pooh is a consultant for Grand Theft Auto V and co-producer for GTA San Andreas. At first, Shawn went out and helped other actors competing for the portrayal of Franklin. But, he eventually ended up with role himself; his acting skills were a bit rough at first. 
In a talk about his experience on acting on Grand Theft Auto V, Shawn said,
The process is real deep. It's just conditioning yourself to imagine what's going on in a square room -- and you have to imagine it's a living room, and you have to close your eyes and imagine acting inside a real living room.
Before GTA, Shawn did movies like Dead Homiez (1996), Three Strikes (2000), and Wash (2001). He was also a part of the rap group, Kam&Solo, that released a few songs. One of the known songs was Where I Come From, that was released in 1999.
From his contribution to the industry as an actor and rapper, Shawn has garnered an immense net worth that resides in millions.
Shawn Fonteno's Wife & Family
Shawn is a loving husband to his gorgeous wife, and a proud father of his only daughter, Bria. The word, 'proud' doesn't even measure up to how much he admires his daughter. He keeps his followers updated on every single thing that his daughter achieves; from getting into the university to graduating.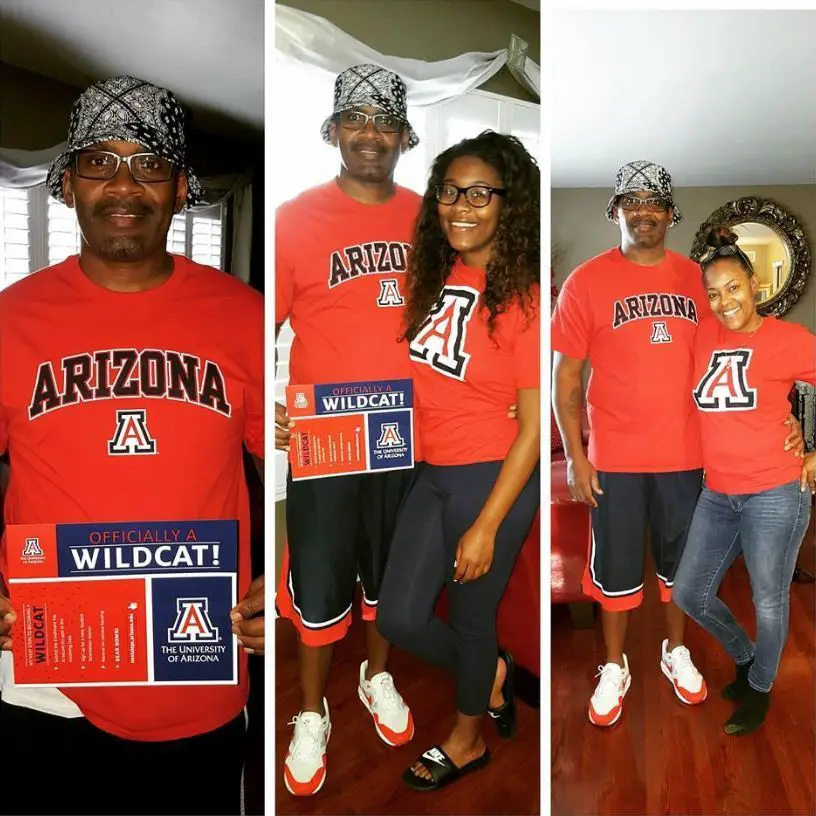 Shawn mentions his daughters' university via a collage of family picture with daughter and wife on 22 April 2015 (Photo: Shawn Fonteno's Facebook)
And, his daughter has continued to keep him proud; she is a news anchor for Arizona Cat's Eye. Shawn is just as loving of his wife as well. In fact, he wished his wife on her birthday on Twitter one time and said that he would get her anything she wanted.
Related: Terry Serpico Bio, Family, Married, Wife, Height, Net Worth, 2017
Shawn's family doesn't limit to just his wife and daughter. He is also the cousin of Young Maylay, who voiced Carl Johnson in Grand Theft Auto: San Andreas. His mother died in October 2017.