Having embarked on the journey as an actor so young, Ser'Darius Blain, a television and film actor, has some advice for the newcomers. He says the industry is "99.8" percent a rejection. So until and unless an individual has tough skin, it is better to run the other way.
He, himself went through a series of rejections, until he learned to take every bit of it as a learning experience. Instead of dwelling upon the fact of not getting the job, he started to look on a brighter side that there is always some experience to walk away with, and hence the same line of work began to look more rewarding.
Ser'Darius Blain Bio: Age / Birthday, Ethnicity
Born on the 10th March 1987 in Miami Florida, Ser'Darius Blain grew up in a multicultural and diverse community. His family of African-American descents is from Haiti and the Dominican Republic. After the death of his grandfather, his grandmother longed for a better quality of life for her children. So, they set their sights on the United States and migrated there in the early 80s.
Because of diverse cultures, Ser'Darius learned how, living in multiple backgrounds, one gains a healthy respect for everybody's individual struggle.
Worked On The Same Project (NCIS): Rob Kerkovich Married Status; Wife, Gay, Age, Parents
He lived with his family in Florida until his parents divorced. He raised there until he was nine. Then he moved to Oklahoma for about two and a half years. His mother was getting her master's degree in Education and by the time she graduated, they ended up in Connecticut for a year, then back to Florida for another eight years and ultimately to New York. The last place– Ser'Darius Blain moved on his own.
On 3rd January 2020, Ser'Darius wished his father on his 60th birthday.
Personal Life: Girlfriend / Married?
Back in December 2011, he tweeted about going on the Allstate commercial with his "wife." The same year, he also mentioned his 19-year-old ex-girlfriend who was into dancing, acting, and musical theatre. Actually, it was when driving her for some audition that Ser'Darius got caught by acting bug himself.
All that been said, his relationship status still stays a mystery.
Also Starred In Chicago P.D.: Taylor John Smith Wiki, Height, Parents, Girlfriend, Movies
However, it is a known fact that he has a son named Elijah Blain (born on 3rd June 2014) from his relationship with actress, writer, and producer, Isadora Ortega.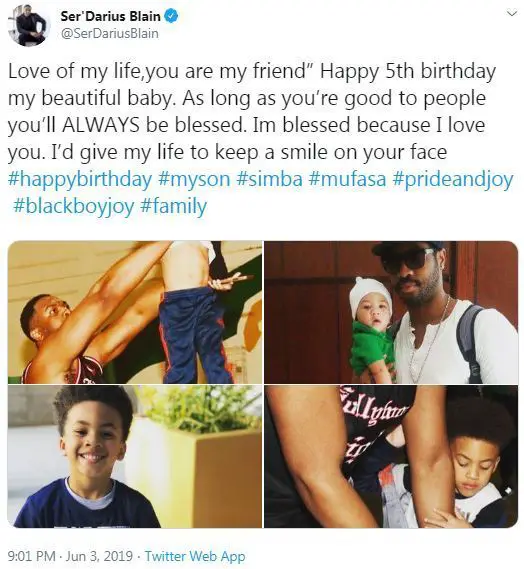 Ser'Darius Blain wishes his son, Elijah Blain on his birthday (Photo: Ser'Darius Blain's Twitter)
Apart from her past relationship, on 15th March 2019, Ser'Darius Blain wrote on his tweet that he never really got to see marriage up close. That is the reason why he loves asking questions and tries to make his own philosophies on love and relationships.
Movies, TV Shows
Ser'Darius Blain appeared in the TV shows including Charmed, Sweet/Vicious, Shameless, Chicago P.D., Survivor's Remorse, NCIS, Jane by Design, The Vampire Diaries, and movies Jumanji: Welcome to the Jungle, Jumanji: The Next Level, amongst many others.