Many people in the cinematic fields are multitalented. While counting such celebrities, Omar Gooding's name comes first. Facts to say, Omar is a voice artist, rapper, singer, a comedian, and actor by profession.
Being born in the family of artists, Omar paved his way and made a name for himself with his hard work and dedication.
Omar Gooding Family
Apart from Omar, his family members are also artists. His father Cuba Gooding Sr. and mother Shirley Sullivan were both entertainers and singers. His father was the lead singer of the Soul group The Main Ingredient while his mother was the singer from the group, The Sweethearts. Sadly, his dad passed away on 20 April 2017. 
Moreover, his brother Cuba Gooding Jr. is a well-known Oscar-winning actor. Talking about his other family members, Omar has a sister named April Gooding and another brother, Tommy Gooding.
Omar first opened his eyes on 19 October 1976 in Los Angeles, California. Currently, he is at the age of 42 and has a height of 6 feet (1.82 meters) tall.
Omar's Girlfriend
Omar had a relationship with actress Angel Cowell. The two developed feelings for each other when working together in the movie Baby Boy (2001). The love romance went ahead for some years. And, Omar and Angel separated without revealing reasons of their split.
Related: Is Sal Vulcano Gay? Or Married To Girlfriend? Here's Your Answer
Regardless of the separation, Angel and Omar still share a healthy relation as friends. Both of them appear in the comedy TV series Family Time and entertain the audience with their chemistry and acting.
Omar Gooding's Son, Married?
Post break up with his girlfriend, Omar met the love of his life, Mia. His relationship with new lady bloomed with care and understanding. And now, the forty-two-year-old actor has a son named Omar Gooding Jr.; born on 27 January 2017 with Mia.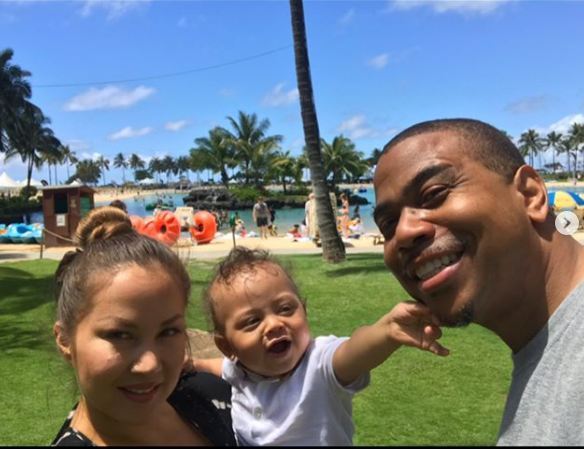 Omar Gooding with his partner Mia and son at the Hilton Hawaiian Village Waikiki Beach Resort on 27 March 2018 (Photo: Omar Gooding's Instagram)
Though the lovebirds share a soothing relation and also an adorable son, they are not husband and wife till now. Well, they have not tied the wedding knots and are unmarried. 
Omar As Actor, Career
The beginning of Omar's career dates back to the early 90s. He appeared on various television shows like Just the Ten of Us and Empty Nest. Afterward, he played significant roles in various shows like The Royal family, Blossom, and Smart Guy.
Don't Miss: Is Colin Woodell Gay? Partner, Height, Family, Dating Status
It was only after appearing on the series Hanging with Mr, Cooper, Omar's popularity skyrocketed. Since then, he is a part of TV series such as One on One, Barbershop, The Division, and Miami Medical. Showing his versatility, he also featured on the track, No Warning.
It's not a surprise that Omar amasses the handsome amount of money from rapping, voice-acting, acting, and other involvements. The multi-talented personality now has a net worth of $2 million.