Today, comedians are successful in winning the hearts of millions of people. They work hard to prepare anything that stirs up their audience and make them laugh out loud. Among them is Mo Mandel, who is one of the biggest names in the world of stand-up comedy.
Mandel wanted to become a novelist in his life, but his life had something extra stored for him, which led him to become a comedian. Mo's humorous career has helped him garner a huge amount of net worth throughout his time as a standup comedian.
Mo Mandel Bio, Age
Mo Mandel was born on 6 April 1981 to his family. He was raised in California, The United States of America by his parents Benna Kolinsky, and Dan Mandelbaum, as per his bio. Mo also has one brother named Chaya Mandelbaum and a cousin, Sue Kolinsky with whom he spent the majority of his childhood. 
For his education, Mo, now of age 37, graduated from the University of California located in Santa Barbara, California. After graduation, Mo moved to London, England for six months.
Don't Miss: David Castaneda Wiki, Age, Wife, Parents
Originally planning to be a writer and novelist for his career, Mo gained a more precise vision as the days passed by and realized that he wanted to pursue his career in standup comedy.
Mo then moved to San Francisco to pursue his dreams as a comedian. He took part in the San Francisco International Comedy Competition in 2006 where he won the third position. This was just the beginning for Mo as there was more for him to come.
Mo gained worldwide recognition after he won the Comedy Central's Open Mic Fight in 2007. The win was just the beginning on his ride to the height of fame. After winning the show, Mo got a chance to appear as a guest on The Late Late Show with Craig Ferguson in the same year. People loved Mo then and now since his jokes are relevant and effortless.
Mo's fame increased over the years, and he even got into acting. He earned his first acting credit with the movie Here's the Thing. Mo went onto appear in other blockbuster hit shows like Love Bites, 2 Broke Girls, Modern Family, and Happy Endings. He also appeared on the NBC show named Free Agents where he starred opposite to Hank Azaria.
For his standup comedy, Mo landed on shows like Chelsea Lately, Comedy Central Presents, and Conan. He also actively participates in writing sitcom pilots for different channels including FXX, FOX, Disney Channel, and NBC.
Mo Mandel Married, Wife
Mo Mandel keeps his personal life and professional life, both in balance. This witty man is often assumed as gay due to his low-key profile, but neither is he gay nor is he married.
However, he is taken. Mo is currently in a relationship with his girlfriend Ashely, who is a doctor.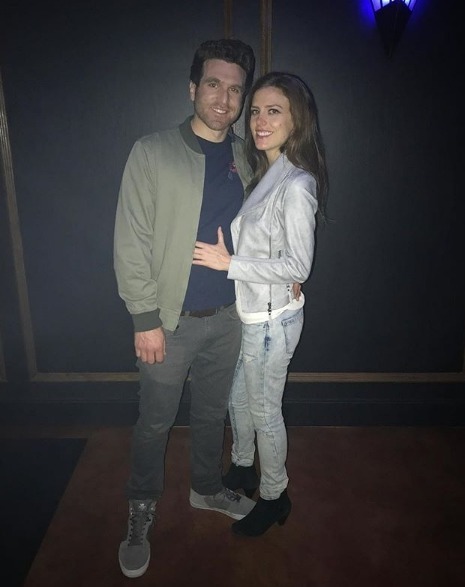 Mo Mandel's girlfriend Ashley wishes him a happy one year anniversary on 21 September 2018 (Photo: Ashley's Instagram)
The duo has been dating for more than a year now. Their fans are excited to see their relationship turn into a husband and wife one real soon.