Max Jenkins is an American actor and producer best known for his portrayal of Max Carnegie in the TV series, The Mysterious of Laura.
Most of his acting performances are critically acclaimed. 
Additionally, he is also earning recognition as a producer, having worked in short movies like Stepdaddy in 2019 and Crown Prince in 2017.
Max Jenkins' Age & Family Details
Max Jenkins was born on 13th March 1985 in New York City, New York. 
Max has rarely mentioned his parents and siblings on his social media timeline. On an Instagram post dated 8th June 2016, he has shared a photo of his mother, Michelle Sims. 
Read More: Will Gluck Bio, Age, Wife, Family, Net Worth
Furthermore, on 11th July 2014's reply tweet, he mentioned his father, Steven Jenkins, but didn't provide any further information about his father.
Similarly, on a tweet dated 9th November 2017, he also talked about his sister. 
Apart from these, Max has not disclosed the details of his family members. Neither is he found talking about his early life and education.
Married To Spouse / Partner?
Max Jenkins is openly gay and is very candid to talk about his sexuality. In fact, on 12th June 2016's tweet, he wrote that he was gay and not afraid of being so. Similarly, he can be seen celebrating gay pride in several posts. 
When it comes to the matter of his romantic life, Max has shared several photos with a guy named Frank De Julio, who is also an actor known for A Walk Among the Tombstones, The Night Of, and Jessica Jones. 
Though Max has not officially announced Frank as his partner, the captions, along with the photos shared by Max on his social media timelines, show that the two are in a relationship.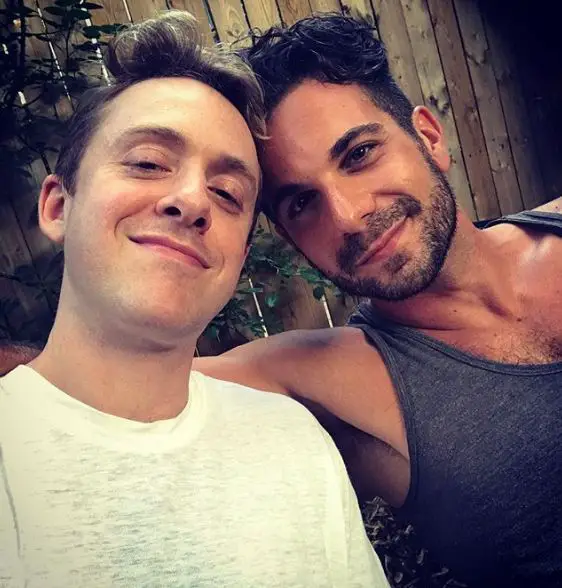 Max Jenkins with Frank De Julio on 16 July 2017 (Photo: Frank De Julio's Instagram)
For instance, on 26th October 2017's Instagram post, he shared a photo with Frank referring to him as his spouse. Frank has also shared pictures with Max mentioning him as his love. 
Judging by these posts from his social media timelines, the two are speculated to be married or in a deep relationship, but neither of them has officially confirmed it. 
Movies & TV Shows
During his decade long career, Max has performed in several hit movies and TV shows. He has performed mind-blowingly in some of his critically acclaimed roles.
His movie credits include Breaking Upward in 2009, Fort Tilden portraying Ashley in 2014, Are You Joking? representing Paul in 2014, Most Likely To in 2018, Perception in 2018, and Plus One in 2019. 
Max's performance on TV shows is also praisable.
His TV acting works include Gay's Anatomy from 2009 to 2012, 30 Rock in 2012, Orange Is the New Black in 2015, High Maintenance in 2016, Dead to Me, and Human Interest both played in 2019.