If you don't know who Maurice Hines is, he is the older brother of late singer, Gregory Hines. Maurice is an American director, actor, singer, and tap-dance choreographer, who made his Broadway debut in The Girl in Pink Tights in 1954. As a choreographer, he co-directed and choreographed the national tour of musical biography, Satchmo, Havana Night in Cuba, and the all-Latino production of The Red Shoes.
Maurice's film debut, The Cotton Club has remained his sole big-screen credit to date. He guest-starred on the gay comedy, Will & Grace and also had a similar stint on Love, Sidney, which was the first television show to have a central gay character.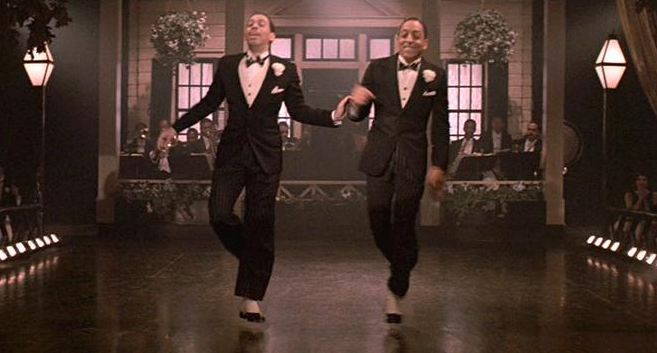 Maurice Hines tap-dances with his brother, Gregory in the movie, The Cotton Club (Photo: iheartfilmblog.com)
Apart from that, he conceived, choreographed, and directed Yo Alice; a fantasy staged for a workshop in 2000 and a reading at the Triad Theatre in 2007. He further heightened his career as he directed the musical, Ella, First Lady of Song, which was a tribute to Ella Fitzgerald. It stars Blues/Jazz singer Freda Payne and has gone through three developmental out-of-town tryouts which even includes The Crossroads Theatre.
You Don't Want To Miss: Celeste Ackelson Bio Unfolds: Age, Net Worth, Wedding, Family & More
Maurice Hines Gay, Secretly Married?
For Maurice, accepting himself as gay wasn't hard. He has always been out as a gay and has never tried to hide it once. He even gushed about how he embraced his sexuality on Metro Weekly on 29 March 2006,
I've always embraced (being gay). It wasn't something that was hard for me, even when I was a young man and was living in rough areas. I don't tolerate (intolerance) because it's negative. And anything negative in my life must be dismissed.
While being gay isn't something Maurice has hidden, he mastered the technique of keeping his romantic flings in the shadow. However, he mentioned that the first man he ever dated was a football buddy of Gregory's.
Since then, the choreographer hasn't bothered to talk about any of his gay relationships. But as he is at the age of 74, people are speculating that Maurice could be already married. However, there isn't any concrete information on his married status.
Maurice's Bio, Age & Family
Maurice, age 74, was born on 13 December 1943 to parents Alma Iola and Maurice Robert Hines Sr. He carries the blood of multi-talents from his family as his father, Maurice Hines Sr. was a dancer, musician, and actor. His brother, Gregory Hines, who carried an immense net worth of $6 million was the lead singer in the rock band, Severance.
Read Also: Terry Serpico Bio, Family, Married, Wife, Height, Net Worth, 2017
Gregory, unfortunately, passed away of liver cancer in August 2009. In 2013, Maurice performed a tribute to his late brother at the Cutler Majestic Theatre with the play, Tappin' Thru Life: An Evening with Maurice Hines.
Meanwhile, he confessed to The New York Times about how he hadn't spoken to his brother for ten years. The play told the story of the sibling separation and eventual reconciliation. Before the play started, Maurice performed a soft-shoe tap-dance, that he had learned with his brother through their tap teacher Henry LeTang.