The Australian actor, director, producer, and filmmaker Josh Lawson, a sought-after Hollywood actor, is currently single. Since the break up with his ex-girlfriend Rachel Taylor, the charming Aussie actor is hardly seen with anyone. 
Josh Lawson's Relationship History
It all began at the set of the film Any Questions For Ben? Lawson's love for his co-star Rachel Taylor sparked while they shared the screen for the film in 2010. 
Portraying the rekindled attraction through Ben and Alex's characters in the movie, the momentum continued in their real life as well. A source told the news, "Sparkes flew. They were totally smitten with each other the moment they laid eyes on each other."
To Rachel, who had just gotten out of an abusive relationship with Mathew Newton, the relationship with the comedian might have been a solace. Moreover, as per the news, Lawson helped the actress get through the allegedly past relationship. 
But just when things were going great between them and the actress had begun coming out of the past misery, things weren't the same anymore. After a brief dating period, the couple split, and Rachel instantly moved on with Lincoln Pilcher, a fashion photographer. 
Rachel and Lawson were living together during their relationship, but it seems like the couple was aware that their relationship wasn't going to last any longer. One of the actor's friend told the news, 
He helped her through a difficult time. Once she was back on her feet they both knew there was a chance the relationship would end      
After his separation from Rachel, he was in a relationship with his new partner, Emily Gillies. But the brief entanglement came to an end pretty soon. 
However, some fans also speculated him to be gay, but all his relationships so far suggest that he is straight. Making a hilariously funny 'gram post during the 2020 pandemic lockdown, the actor posted a picture lying on the bed next to a human figured toilet paper roll stack and wrote,
I'd like you to meet my quarantine girlfriend, Angel Soft. She's gentle, she's a good listener, and she doesn't judge me. #LoveIsBlind
Except for his toilet-paper-roll-girlfriend, the actor remains single and unmarried to this date, looking for love.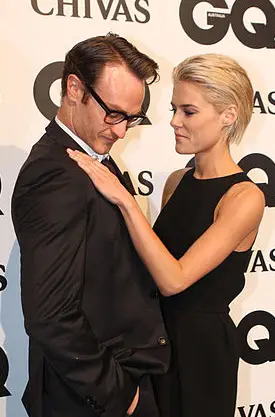 Joah Lawson and Rachel Taylor. (Source: Wikimedia)
What's The Story Of Lawson Ex's Abusive Past?
The alleged abusive relationship between Rachel Taylor and her ex-partner Matthew Newton dropped like a bombshell that stirred up the media. Although it was all over the tabloids, it took the actress almost three years to openly talk about the traumatic past. 
In 2014 when she appeared on the cover of Australian Women's Weekly, she told the magazine,
I don't think any woman thinks that they will become an addition to these statistics. I didn't. I thought I was exempt. I thought I was the exception to the rule. I was not. I am a survivor of domestic violence.
In 2010, the couple broke up after Matthew violently attacked the actress in a hotel in Rome. Matthew already had issues with violence in the past and had also been rehabilitated for his mental illness. 
After the split, the actress was in a few relationships, but the longest one happens to be with Mike Piscitelli, a director. It is unknown if Mike and Rachel are still in a relationship, but in 2016, Rachel reportedly said she felt fortunate to have him in her life. 
Dig Into Lawson's Family Details
Lawson, aged 39, is not the only artistic one in his family. His siblings Ben Lawson and Jordan Lawson also follow the profession of art. 
Ben, an actor, is most recognized for his roles in No Strings Attached, Don't Trust the B---- in Apartment 23, and Designated Survivor. At the same time, his younger brother Jordan is a bassist of the Gallant, a Brisbane band. 
The Australian nationality holder is very close-knitted with his family and frequently uploads the picture of his parents and brothers on his social media. Moreover, his mother, Dianne, split with his father and remarried. Lawson is also seen posting pictures of both his biological dad and step-dad on his Instagram account.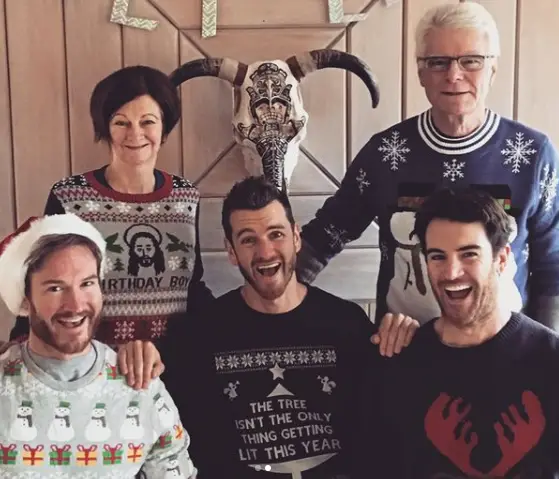 Josh Lawson with his mother, step-father, and brothers. (Source: Instagram)
What Is His Net Worth?
With the height of six feet two inches and good looks sprinkled with a massive sense of humor, the actor easily falls under the likes of many people. With his brilliance in acting, Lawson has been in numerous films and series and is widely known for House of Lies and Mortal Combat. 
Although the real amount of net worth entitled to the actor is unrevealed but based on several projects under his belt, including the Box Office hit Mortal Kombat, the actor sure is worth millions of dollars.