Jerry O'Connell is an American professional actor who is famous for his role as Quinn Mallory on the TV series Sliders. Since starting his acting career at the young age, Jerry has starred in more than 30 movies and has had the stint on numerous TV series.
O'Connell not only basks on his glorious professional career but also shares a compelling relationship life with his soul mate. Besides, Jerry is the father to his two beautiful daughters, Dolly Rebecca Rose and Charlie Tamara Tulip O'Connell.
Jerry O'Connell's Bio, Family Life
Jeremiah Jerry O'Connell, generally known as Jerry O'Connell, was born on 17 February 1974, in Manhattan, New York City. He grew up with his American parents, Michael O'Connell (father) and Linda (mother). Jerry, who stands tall at the height of 6'2", belongs to white ethnicity.
Jerry is of diverse ancestry, as he is half Irish, one-quarter Italian, and one-quarter Polish. His father, Michael O'Connell, is an advertising agency art director whereas his mother, Linda, is an art teacher. Besides, Jerry's maternal grandfather, Charles S. Witkowski, was the mayor of Bayonne, New Jersey.
O'Connell grew up in Manhattan with his younger brother, Charlie O'Connell, who is also an actor by profession. Charlie is famous for his appearance on American dating and relationship reality TV series The Bachelor. Besides, he also made his appearances in several of his older brother's movies.
O'Connell's Professional Bio, Plus Actual Net Worth!
Jerry attended New York University in 1991 and majored in film. Before his graduation in 1995, O'Connell learned screen-writing and competed on the fencing team as well. Besides, Jerry's acting career had already kick-started when he appeared in 1986 movie Stand by Me.
Apart from his acting stints on various movies like Calendar Girl (1993), Joe's Apartment (1996), Scream 2 (1997), and Mission to Mars (2004), Jerry debuted as a producer/screenplay writer on 2004 movie First Daughter. Meanwhile, O'Connell has also showcased his versatility as a voice artist in animated Justice League movies from 2015 to 2017.
Besides, Jerry O'Connell has flaunted his acting skills appearing in more than 50 TV series with the lead roles and guest appearances. Recently, Jerry enticed the global audiences with the leading role in Canadian TV crime-drama series Carter, which aired on 15 May 2018. The show is still running on its first season.  
For his continuous hard work and dedication, O'Connell summons a resounding net worth which swirls around $16 million.
Jerry O'Connell Carrying His Glorious Wedding Vows!
Like his significant professional career, O'Connell basks on the beautiful relationship life. He is happily married to his beautiful actress wife, Rebecca Romijn. Rebecca, who formerly worked as a model, is famous for her role as Mystique in the first trilogy of the X-Men film series. Jerry and Rebecca tied the knots together on 14 July 2007 after enjoying the romantic date for some time. 
Previously, Rebecca was married to renowned American actor John Stamos. However, the actor-couple couldn't keep the peace with each other for long and subsequently filed a divorce in 2005, after seven years of togetherness. Jerry fell for Rebecca when he first saw her at a party while she was still married to her ex-husband.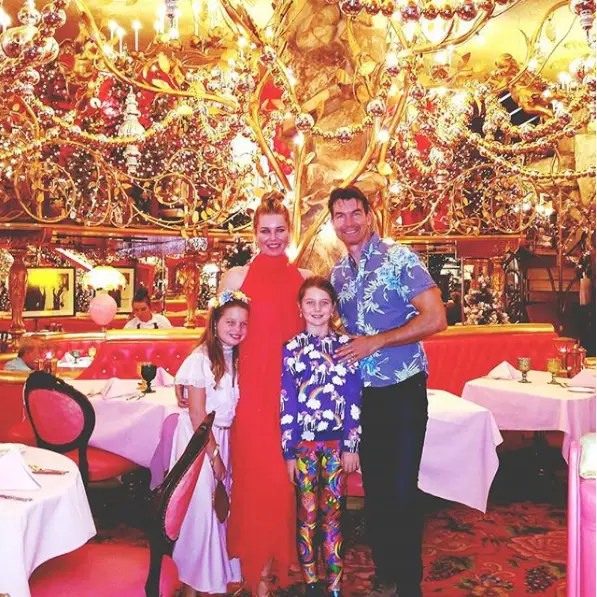 Jerry O'Connell flaunting joyous bond with his family (Photo: Jerry O'Connell's Instagram)
As they say, whatever happens, happens for good. Rebecca's failed first marriage worked like a gem for Jerry who after two years held the hands of the girl of his dreams. The sizzling couple is carrying the resounding marriage voyage since then with the love of twin daughters, Dolly Rebecca Rose and Charlie Tamara Tulip O'Connell.