V.C. Andrews' Heaven actor Jason Cermak hasn't failed to give audiences romantic bliss through his on-screen tender love stories, but about his off-screen love life, nobody knows. 
Through the character Troy in a V.C. Andrews' book adopted series, Cermak got the audiences hooked by his throbbing movie romance with Annalise Basso, a.k.a. Heaven.
Yet his other work on Eat, Play, Love portrays his sweet on-screen love story with the actress Jen Lilley.  
But apart from all his movie romances, the actor has kept his real-life relationship status in shadow, steaming the fans' curiosity.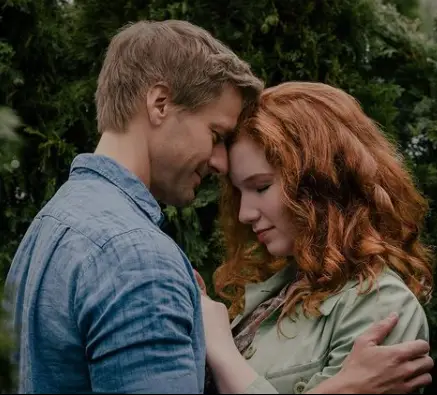 A scene from V.C. Andrews' Heaven. (Source: Instagram)
Cermak's Career and Net Worth
Influenced by the incredible actor Matt Damon, on the set of The Bourne Identity, the Canadian actor began his acting journey in 2000. He went full-in and started training and sharpened his acting skills. 
However, in the beginning, acting was just a medium to pay his bills, but little did he know it would turn into his passion and be a professional at it. 
While pursuing acting, Cermack also worked as an instructor in a university and an IT consultant while in Prague. In 2006, the actor gave fate its chance, left his job, and moved to Australia to make a complete shift of his career into acting. 
Having booked his first-ever role in a Canadian film, Passchendaele, the actor, moved to Canada and has been doing several movies and TV series ever since. 
To this date, the actor has been a part of more than 50 movies and TV series, with the most notable ones being Heartland, Once Upon A Time, Red Widow, King & Maxwell, Zoo, Eat, Play, Love, V.C. Andrews' Heaven and the list goes on.  
Besides, the actor has also produced four short films and has been a writer of two short films. Throughout his astonishing career, the actor is estimated to have a net worth of 1.3 million dollars as per a source. 
A Short Bio: Family, Age, Height
Born on 20 May 1977, in Alberta, Canada, the actor grew up there. The 6-foot tall Cermak was athletic from his young and participated in every sport in his school. His passion for sports did not stop there, and he went on to pursue sports and competed in the decathlon before making acting his full-time thing.
The actor has an elder sibling and often posts pictures of his family on his social media. Recently, he posted about a virtual meet with his 93-years-old grandmother, who fell and broke her hip. The loving grandson shared his disappointment about not seeing her in person in such a tough time due to the COVID pandemic.