The IT actor James Ransone, one of the well-reputed actors in Hollywood, shares his gratitude and appreciation to his wife and kid through his 'gram with heartfelt words on the occasion of his birthday and embraces his family with the immense love, of which he had never known before.    
James Ransone's WIfe and Kid
One of his recent Instagram posts reveals some new news regarding his personal life that his fans have been most curious about. On the occasion of his birthday, reaching the age of forty-two, the actor expressed gratitude through his Instagram post on June 3. 
The first picture of the post showed the warm gaze of the actor, looking at his child rest comfortably on his broad tattooed chest, which was heartwarming. The later pictures were of him and his wife and his pets. Expressing his deep sentiments, he captioned the pictures as:
As I look back on a life comprised mostly of mistakes, I can safely say you guys were about the only things I did right. God's grace is overwhelming. Jackie, vi, skips, Kevin, judy, pig, and lastly you Sonny dog: I love you. 
Moreover, Ransone is not much of a social media guy and barely makes any posts. But this one sure gave fans a peak on his personal life up close. However, he has never disclosed any details of his family members publicly.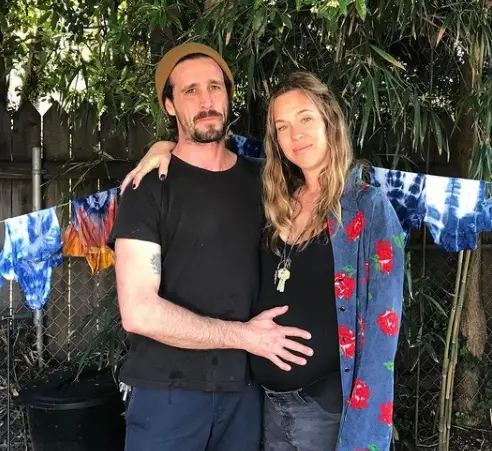 James Ransone and his wife before her delivery. ( Source: Instagram)
A Real-Life Hero
Not only in movies but also in real life, the actor proved what an actual hero looks like. It was in 2006 when Ransone made headlines for his act of bravery when his neighbor from being raped.
As a source reports, the Inside man actor was in his New York apartment preparing for his audition when he heard a screaming voice crying for help. He immediately got out of his apartment, and there was a woman from upstairs who was forced down on the ground by a man trying to rape her.   
In a rush, he went to save the woman, held a metal pipe, and hit the man on the shoulder, and stopped the crime from happening. He said, 
I pictured my mom, my girlfriend, and every girl I've ever loved and thought, 'Vengeance is mine.'
Although Ransone had attacked the man, he couldn't grab hold of him for long, and the culprit ran away before the police had arrived at the scene. His one act of courage saved somebody's life.  
Ransone Opens Up About Sexual Abuse
Through his Instagram post of May 17, The Wire actor opened up about his abusive past, claiming that he was sexually harassed by his math tutor while he was twelve. 
The post contained a lengthy email that he wrote to his math tutor, Timothy Raulo, a teacher at Sudbrook Magnet Middle School in Baltimore. In the letter, he explains how the filthy man sexually harassed Ransone multiple times for six months. 
As Ransone shared, he grew up in an abusive family with no proper parental guidance, and the tutor who was supposed to be the one showing him the right path was instead taking advantage of him. 
The actor was brave enough to share his heart-trembling past, but his motive in doing so was to make other parents aware of the man's character and protect their kids from falling into the wrong hands. Moreover, the actor was praised supported by many people for his bold move on the comment section.  
What Is His Net Worth?
Coming from a rough past, the actor overcame all his difficulties and excelled in his career with sheer hard work and dedication. Beginning his career in 2001, Ransone has made it in the shining lights with the hits such as The Wire, Generation Kill, Sinister 2, and It Chapter 2, only to name a few. 
Being a part of over a dozen movies and series, the actor is estimated to have accumulated a net worth of 3 million dollars, as per a source.