It is always inspiring to see a child artist who knew what they wanted to be since they learned about their goals, and stayed on that path, achieve their dreams.
Every year, a lot of upcoming child actors take the world by storm with their amazing personality and natural talent.
Gone are the days when Hollywood was mainly a place for adults. Today, a lot of kids have taken over the business and red carpet, grabbing the opportunity to meet their idols and other celebrities. 
Likewise, the TV show, Manifest, is responsible for bringing the very young child artist, 11-year-old Jack Messina, to the spotlight. At such a young age, Jack surely has a maturity about him. 
Jack Messina Career In TV Show, 2019
Jack Messina once followed his friend into a class at a local acting school after school just for fun and ended up enjoying it.
During his last semester, his teacher held a showcase in front of talent agents and managers and interestingly, Jack was also part of the show. 
Let's Get To Know More: Aymeric Jett Montaz Wiki: Age, Girlfriend, Parents, Height
Next day, Jack's mother received a phone call from the same agent, asking to see Jack. Then, he ended up signing with a manager and began his real audition.
Eventually, he auditioned for the TV show Manifest, alongside so many auditions during that time.
Later, Jack was called to meet the casting director and the creator, Jeff Rake. Jack's parents went along with him to the meeting in New York, and eventually, he got his first job.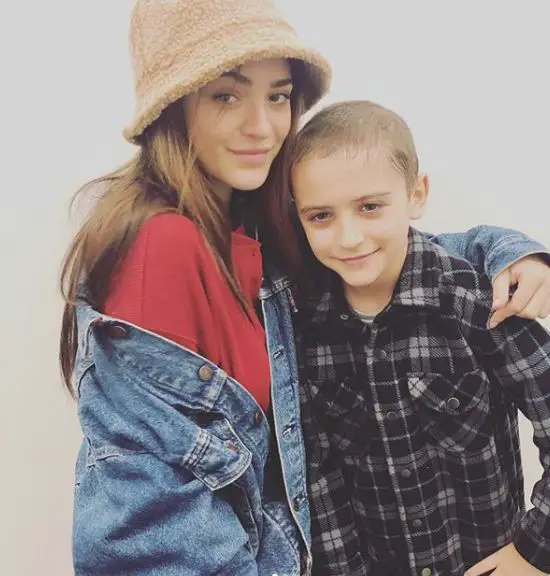 Jack Messina poses with his TV sister, Luna, on 16 October 2018 (Photo: Jack Messina's Instagram)
In the same year, Jack also got a chance for the TV show, The Marvelous Mrs. Maisel, as Salvatore. In the series, he had to speak and sing in Italian which he did gracefully. He learned enough to get through the scene, but he does not speak fluent Italian. 
Now, in 2019, Jack is still working on a project for Manifest. Even in the upcoming future, he is sure to entertain his fans with his acting skills.
Jack, who has just started his career might heighten his career in future and make millions of net worth. However, as of now, he is still working on carving his career. 
Jack's Wiki / Bio
Born in 2007, Jack celebrates his birthday on 2nd September every year.
Check Out: Lonnie Chavis Bio Talks: Age, Net worth, Parents, Siblings & Facts
Jack, age 11, grew up in the United States, as the youngest among his two older siblings who are in college. He used to tag along with his two other brothers on all the college tours. 
As for Jack's parents, they are very supportive and stays with Jack through every of his step.
For his schooling, he attends elementary school. He will be starting his Middle school very soon, but due to his career, he might have to miss school and communicate with all the different teachers. 
Under mutual understanding between Jack and his parents, they discussed the possibility of homeschooling, but nothing has been concluded.