Elisha Henig is an American television actor, who is best known for playing the role of Julian Walker in the crime-mystery anthology series The Sinner—he appeared as one of the lead characters in all eight episodes of the series' second season in 2018.
Similarly, the young actor has also been cast in several children and teen-related television series like Lab Rats: Elite Force, School of Rock, Legendary Dudas, Game Shakers, American Vandal, and Alex, Inc.
Bio: Birthday & Height
Elisha Henig was born on 30th October 2004 in Portland, United States. He stands at a height of 5 feet 4 inches, as of now. His birth sign is Scorpio. 
Parents, Siblings
Elisha Henig has been very secretive about his parents' details—that is why the identity of his parents remains under the covers. However, he has been outspoken about his three sibling brothers: Otniel Henig, Avinoam Henig, and Akiva Henig. Elisha is the youngest amongst his brothers. 
Family Details About: Jessie Barnes Bio, Age, Husband, Family
Moreover, the four brothers together have formed an indie rock band named Boys without Toys based in Portland, OR. Their musical albums include Annie, and It's Raining.
Acting Journey
Elisha Henig grew an interest in acting at the age of 8 when he performed as Richard III during a Shakespeare acting class in school. Since then, he has been practicing and showcasing acting at various stages.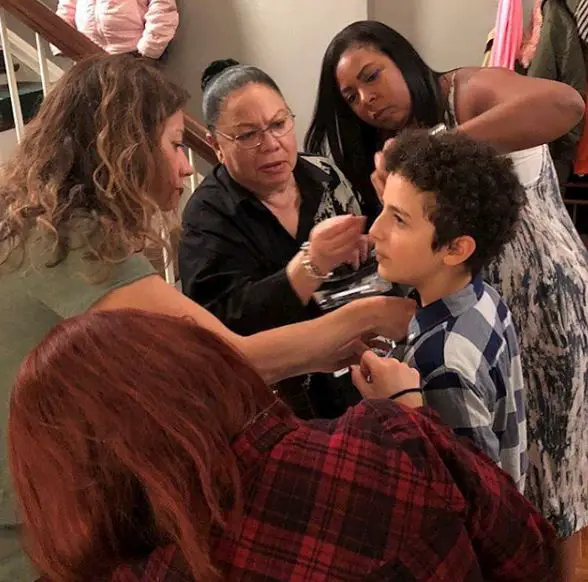 Elisha Henig on the set of TV show Alex, Inc on 28 March 2018 (Photo: Elisha Henig's Instagram)
He initially started performing professional roles at local Portland theaters. One of his performances as a co-lead role in the play named 'The Snowstorm' accommodated him to win the Portland Best Young Performer Drammy award as well.
Interesting: Amanda Arcuri Wiki, Age, Height, Boyfriend, Dating, Parents
By the age of 10, Elisha started appearing in TV shows and other professional acting projects—now, 15, he is counted as one of the rising young actors in the entertainment industry.
As of January 2020, Elisha's TV series Mythic Quest: Raven's Banquet, and short movie Futile Haven is in its post-production stage—the series Mythic Quest: Raven's Banquet is to release on 7th February 2020. Similarly, he has been filming for TV movie Cipher.
7 Fun Facts About Elisha Henig
Elisha thinks that the best look is the un-showered when just rolled out of bed look—he finds it convenient. 
He can make impressions of American President Donald Trump, and of American Politician Bernie Sanders.
He lives for love and laughs.
He has a guest role as Lucas in 2015's TV series 'Nicky, Ricky, Dicky & Dawn' alongside Aidan Gallagher, Jessica Belkin, Casey Simpson, and Lizzy Green.
He worked alongside actors Bill Pullman, Hannah Gross, Natalie Paul, and Tracy Letts in the television series 'The Sinner' in 2018. 
In the series, The Sinner, he plays an 11-year-year-old boy who murders his parents without apparent motive.
He has over 3 thousand followers in his Instagram account and has over 600 followers on Twitter.