Eden Grinshpan is a television personality as well as cook popularly known for her Cooking Channel shows Eden Eats and Log On and Eat with Eden Grinshpan, a traveling show across the United States.
Eden has achieved an appreciable height of success in the food industry. Besides that, she is a happily married woman and a mother of her adorable child. She has managed to carry a balance between her family and professional life.
Eden's Short Bio, Plus Career
Eden was born in 1986 in the United States and celebrates her birthday on 18 August. Currently, he is of 31 years of age, and the birth sign is Leo. Her father is Israeli-born, and her family used to spend every summer in Israel.
She graduated from Le Cordon Bleu in London with a diploma in both Cuisine and Pastry. After graduation, Eden took her love of culinary and traveled to India, Southeast Asia, and Israel, to learn the culture and cuisines of the countries.
When she was in India, Eden volunteered with a variety of organizations including an orphanage called Rishikesh. There, she re-opened a café to raise money and awareness for the orphanage.
After returning from India to New York City, Eden completed a management program at The Institute of Culinary Education. During this time, she met Samantha Schutz, her business partner and together created their first series Eden Eats.
She is also the co-owner of EthNicitY Productions and currently hosts Top Chef Canada. She has been a judge on Sugar Showdown and Donut Showdown for the Cooking Channel, and Chopped Canada for the Food Network and a guest co-host of VH1 Big Morning Buzz live with Nick Lachey.
Eden has also judged Chopped Canada alongside Roger Mooking and Massimo Capra.
Eden has recently partnered with Esquared Hospitality in New York City and is in the process of opening a contemporary middle eastern restaurant for the fall of 2017.
Personal Life: Eden's Blissful Married Life With Husband
Eden Grinshpan married to her Israeli-born boyfriend Ido Niv-Ron, the vice president of sales for Israeli hi-tech company Wibbitz in the year 2013.
When Toronto-born foodie first met her husband she was not sure if it was a date or just a friendly hang out but a few times later both heard the wedding bells.
Eden came to know Ido with the help of her friend. Her friend said Ido also lives in New York and Eden had to meet him. After that, Ido added her as a friend on Facebook. Eventually, they started messaging and decided to hang out.
When Ido first saw her in the bar, he was taken aback and the next day he shut down all his dating accounts and broke the relationship with other girls with whom he had been dating. After that, Ido invited Eden for lunch but she said she was busy at that moment. In response, he said he wanted to spend some time with her, and he will be waiting for her.
After meeting her, Ido went to Israel for work two weeks later, and when he got home, he proposed to her. After hearing that, Eden happily accepted the proposal and said 'Yes.'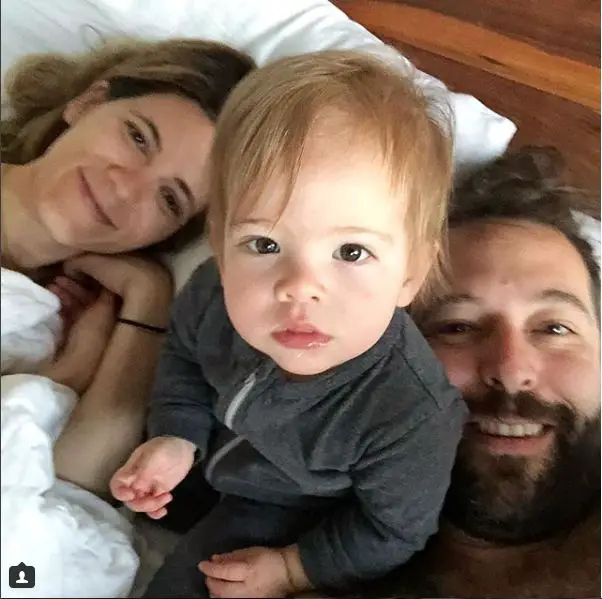 Eden Grinshpan with her husband Ido Niv-Ron and daughter, Ayv picture posted on 3 May 2018 (Photo: Ido Niv-Ron's Instagram)
After five years of their marriage, both couples welcomed their first baby girl named Ayv in the year 2017. Recently on 3 May 2018, Ido shared a picture of his family stating that there are no such words to describe how much he loves her wife. Moreover, their daughter Ayv is also rejoicing their family life.