Owning multiple talents is one thing. But also holding the expertise in varied areas is something very few are capable of.
Among them is Damon Gupton, who made a lot out of this one life and still continues the beautiful journey.
Damon is not just a highly talented and gifted actor and producer, but he is also an equally skilled musician, specializing as an orchestral conductor.
The level of expertise required to be a successful orchestral conductor is not everyone's piece of cake.
Amazingly though, Damon has accomplished so much already with his astounding performances, however stringent the whole process may have been.
Damon Gupton's Bio: Family, Parents
Damon, age 46, was named after the honorable United States' Circuit Judge, Damon Keith by his mother. Ever since, Damon grew up idolizing the legendary soul, who saw to his death bed on the 28th of April 2019.
Keep Reading: Danny Fujikawa Bio, Net Worth, Family
And a month before, Damon tweeted about the time when he saw the senior judge at some event. This is what he had to say-
My mother named me after him, and every time I see him, my heart swells and my eyes water.
Damon, who embraces a multi-racial ethnicity from his parents, a Hispanic and African-American, no doubt shares a beautiful bonding with his mother.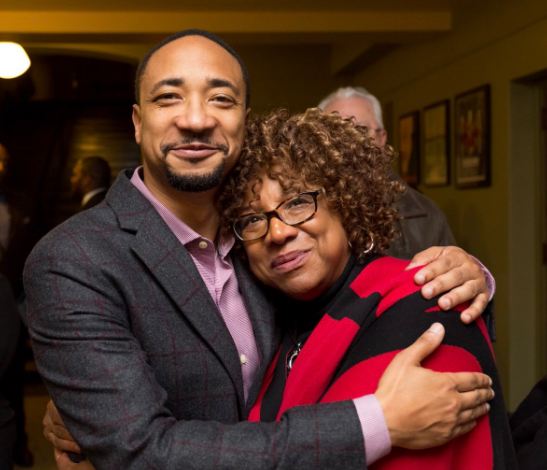 Damon Gupton wishes his "mommy" a happy Mother's Day on 14 May 2017 (Photo: Damon Gupton's Twitter)
He is all-smiles whenever he gets to snap a picture together with his beloved "mommy."
However, more to his family background remains secured under the wraps. 
Damon Guptan Married To Wife?
Damon is yet to walk down the aisle and get married to his lady love. And, when he does it someday, the news will undoubtedly make it to the boldest headlines and tabloid covers.
Get Word: Eddie McGee Bio, Wife, Family, Net Worth
Up until Damon gets to call someone his wife, only a few speculations can be made based on the several tweets he made about his girlfriend, who he chooses to keep anonymous from the media and public.
The tweets generally have been about watching their favorite teams play. From what it appears, Damon and his girlfriend have a considerable liking for sports.
More to their favorite activity is traveling. Damon often mentions about the trips they enjoy together, away from their day-to-day monotony.

Damon Gupton tweeting about his girlfriend and their liking when it comes to traveling on 22 January 2017 (Photo: Damon Gupton's Twitter)
Despite discussing the 'no-name' girlfriend time and again, for some reason, Damon never shared a glimpse of her in his social media. The purpose behind this is a mystery in itself.
Net Worth
So far, Damon has garnered several acting credits from his remarkable portrayals in quite many movies and TV shows.
Some of his praiseworthy projects would be Bates Motel, The Divide, Whiplash, NBC's Deadline, and Fox's big hit, Empire.
Meanwhile, in recent times, Damon is set out for yet another venture.
The Cincinnati Pop Orchestra's conductor, John Morris Russell, declared Damon as the Principal Guest Conductor starting in the latest 2019-2020 season.
John only had the excellent sets of words in the appraisal of the highly celebrated musician.
All in all, the promising career must have paid Damon with more than a satisfactory amount of net worth.