Curran Walters, who portrays Jason Todd in the superhero hit series, Titans is today's heartthrob. The aspiring model and actor has landed himself on the popular series like Game of Silence and Growing Up and Down. 
Apart from his acting career, he is also known as a model, who has modeled for well-known brands like Tilly's, Lee Jeans, and Brothers. Curran has also appeared in commercials for the Samsung Galaxy phone and the video game, NBA 2K15. 
Curran Walters Age, Parents & Height
Curran Walters was born on 16 January 1998 in the United States. Born and raised in Oak Park, California, Curran is very close to his parents and sister. Not much about Curran's family is known, except for the fact that his father is no longer with him.
Curran posted a long paragraph saying goodbye to this father, which shows that he was very close to his late father and was very sad by the loss.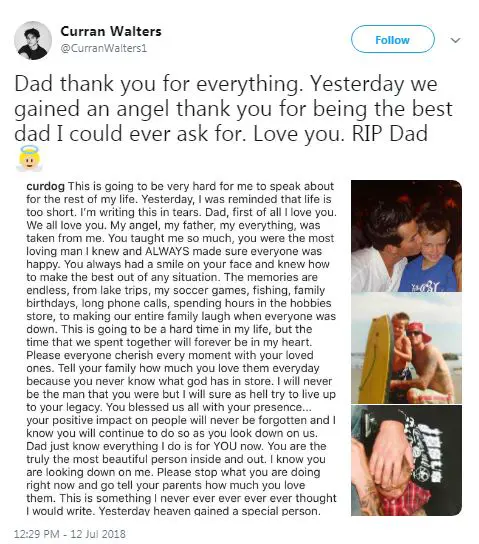 Curran Walters mourns his father's death on 12 July 2018 (Photo: Curran Walters' Twitter)
Curran Walters was interested in acting from a very young age. He completed his high school education from Oak Park High School and then attended the University of California, Santa Barbara.
At the age of 21, he stands at a tall height of 5 feet 8 inches (1.73 meters).
Curran is a dedicated fan of Leonardo Di Caprio and Angelina Jolie and aspires to be as talented and graceful as them. He considers Leonardo to be his greatest inspiration and even believes that he looks like the younger Caprio. Curran also sees himself achieving an Oscar ten years later by following Leonardo's footsteps.
Currently, his net worth is not known, but as an actor, he is estimated to earn about $50K per year.
Curran Walters Dating Girlfriend Or Gay?
Curran Walters is an aspiring actor, but his excellent acting skills have already garnered millions of fans. Because of his good looks, many of the female fans are curious about his love life, but he has not spilled many beans about this part of his life.
Because of very little information about his romantic interest, Curran's sexuality has been questioned, and people have started to assume if he is gay. However, debunking all the gay rumors, Curran's tweet posts reveal that he might be dating a secret girlfriend- who is not very mysterious!
You May Also Know: Michael Trevino Girlfriend, Dating, Gay, Family
Curran Walters has mentioned a lady named Katie Kelly on his Twitter posts, and it seems like they are romantically associated with each other.

Curran Walters mentions his possible love interest on 27 November 2017 (Photo: Curran Walters' Twitter)
Even though Curran has not yet posted any picture with her on his social media, it seems favorable to assume that they are in a relationship and are in love with each other.
It is expected that Curran will open up more about his love life in the upcoming days and dissolve his fans' wonders!