Candian actor Connor Jessup is best known for starring as Taylor Blaine in the Emmy-winning ABC drama American Crime, Ben Mason in TNT's sci-fi series Falling Skies, Simon Atherton on the Discovery Kids series The Saddle Club, Sean Randall in the movie Blackbird, and Oscar Madly in the movie Closet Monster.
Besides being an actor, Connor is also a writer, director, and producer. 
Connor Jessup's Age, Family
Connor Jessup was born on 23rd June 1994 in Toronto, Canada. He has a brother named Liam.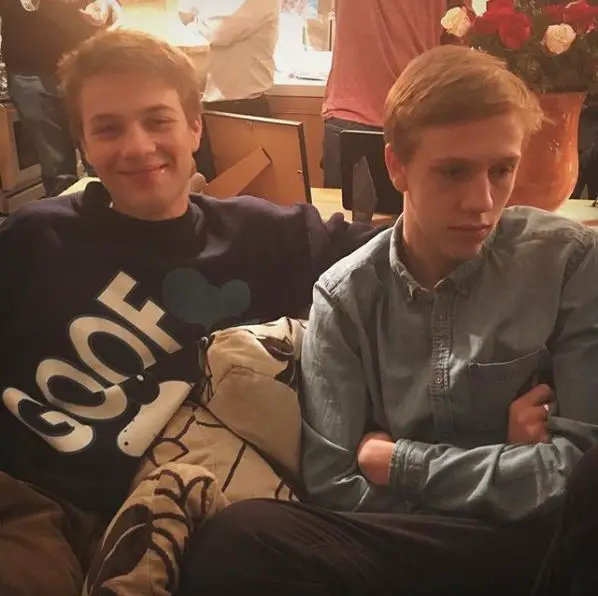 Connor Jessup with his brother Liam on 18th December 2018 (Photo: Connor Jessup's Instagram)
Liam is a rapper and goes by the name ElJay. His brother released his latest music video featuring Naomi on 10 September 2017.
Height
Connor stands at the height of 5 feet 11 inches (1.8 meters).
Connor's Gay Come Out
Connor took his Instagram account to share his coming out story. On his 25th birthday, he posted a picture of himself and opened about his sexuality publicly. As confirmed in the post, he knew he was gay since the age of thirteen, but for years, he folded it and slipped it under the rest of his emotional clutter. Eventually, fighting all the emotions, he spoke publicly and further added, saying he was grateful to be gay. Connor also said:
"Queerness is a solution ... If you're gay, bisexual, transgender, two-spirit, or questioning if you're confused if you're in pain or you feel you're alone if you aren't or you don't: You make the world more surprising and bearable."
After his coming out, Connor couldn't control his emotion after his mother, Brenda Thurston gave him a supporting message saying, she is incredibly humbled and proud to be Connor's mother and also wished him saying— "Happy 25th Birthday to my beautiful, gay son."
Movies & TV Shows
Connor's parents first put him into the local youth theater group, and when he turned 11, he participated in an acting camp. During his acting camp, he noticed some of his peers had agents and were making Doritos commercials. Then, he convinced his mother to find him an agent. Soon, he landed in the TV series The Jon Dore Television Show as Bat Throwing Kid.
A year later, he got a prominent role as Simon Atherton in the series The Saddle Club from 2008 to 2009. Soon, he began appearing in TV shows like King, Falling Skies: The Enemy Within, American Crime, amongst others.
Look For: The Micks's Thomas Barbusca Bio: Family, Height, Movies & More
After television series, he also got a chance to work in the movies, including Blackbird, Skating to New York, Closet Monster, Strange But True, Disappearance at Clifton Hill, and White Lie.
Now, in 2020, Connor is filming his upcoming TV series Locke & Key where he is portraying the character of Tyler Locke