Chad Allen is a retired American actor who began his acting career at the age of seven.
The first character he did was of an autistic kid for the series, St. Elsewhere. He aced at acting ever since, for he won three times Young Artist Award.
Before shifting to an adult career, the then-considered teen-idol did a phenomenal job in TV shows such as NBC's family drama, Our House and NBC's sitcom, My Two Dads.
Chad's journey in the entertainment industry has been more of a roller coaster ride.
From coming out as a gay and retiring from the acting in between, to being an activist and now serving as a clinical psychologist at AUNE Psychological Services Center, Chad is continuously signed in for some mission.
Chad Allen Bio: Family, Gay Partner?
Chad Allen, age 45, was born on 5 June 1974 in Cerritos, California as Chad Allen Lazzari. He shared his mother's womb with his twin sister, Charity Lazzari. Besides, he has two brothers, Steven Lazzari and Robert Lazzari.
His father, Ed Lazzari, and mother, Faith Lazzari raised him with a strict Catholic upbringing. For that reason, he went to a Catholic school.
When asked about his long-ago-made public sexuality, he said that he knew from early on that something was different about him, though he gave a name to it later on.
Meanwhile in 1996, when he was 21, Allen was outed as a gay. One of the U.S. tabloids, named The Globe published photos of him kissing another man in a party.
Though the news came as a new turmoil in his life as a whole, it later made him at ease from all the pretentiousness gone. From there, he even got to be an activist for the LGBTQ+ community.
Moreover, he was able to flaunt his dating life and partner openly. Chad was deeply involved with the gorgeous Jeremy Glazer. The Desperate Housewives actor featured alongside Chad in the 2007's film, Save Me.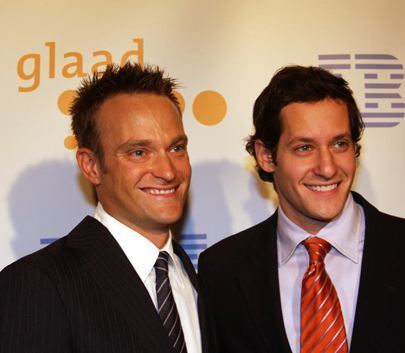 Chad Allen and his partner, Jeremy Glazer, on the GLAAD Red Carpet in 2009 (Photo: web.archive.org)
No matter the extent of their relationship, today, they are not together.
However, the reason for their split is yet to be unwrapped. Chad is seemingly single, while his ex has moved on into a yet another serious romance.
Net Worth As Actor, Movies
Chad only signed in for Dr. Quinn, Medicine Woman pilot in 1993 to earn money for tuition fees, never realizing that the TV show would be picked up for several seasons.
It not only paid for his tuition fees but made significant contributions to his recent net worth of $6 million. His portrayal of 'Matthew Cooper' grew over six long years.
Interesting Read: Andrew Scott Gay, Boyfriend, Affair
Furthermore, in 2005, he played Richard Stevenson's book character, a gay private detective in the series of three television movies, Third Man Out, and the sequel, Shock to the System in 2016 followed by 2008's On the Other Hand, Death and Ice Blues.
Thus, correspondingly, his acting profession went for a while until April 2015 when he came up with a farewell video on his YouTube.
There, he announced his retirement after 30 plus long hauls in the field.
Having graduated with a Bachelor of Arts in Psychology in June 2015, Chad is believed to be on a different trajectory today in 2019, serving as a clinical psychologist.