Buddy Handleson Bio, Gay, Dating, Parents
Buddy Handleson is an American actor who did not have to go through enormous stress to achieve popularity.
He is best known for his roles in the children's series, Wendell & Vinne and Bella and the Bulldogs. 
With endearing charisma and unique personality, Buddy has flaunted his natural talent due to which his fame on the tech space rose as a result of his captivating performance. 
Apart from gaining prominence from acting, he also caught people's attention when he came out as gay. Everyone praised the brave step he took. 
Let's know more about his journey on how he got the strength to come out from his closet. 
Buddy Handleson's Wiki / Bio: Age, Family
Buddy Handleson was born on 1st November 1999 to his parents, Jay and Athena Handleson, in Danville, California.
Check Out: Brady Noon Bio, Age, Parents, Height
While talking about his childhood, he was not as camera loving as he has grown up to be. 
Buddy's parents always encouraged him to become part of the entertainment world, but he was not too keen on acting. 
For instance, when he was a 3-year-old, his parents set him up for a photoshoot, but due to his shyness, he ran away from the cameras. 
Moving towards his education, Buddy, who stands at the height of 5 feet 4 inches (1.63 meters), attended the Vista Grande School.
While studying at the school, he gained the confidence to appear in front of the camera.
As of now, Buddy has overcome all his insecurities and openly flaunts his talent on camera without any hesitation. 
Coming Out As Gay, Dating Boyfriend
Buddy, who until 2017 was staying behind the closet, decided to come out and show the people who he really is. 
On 26 June 2017, he posted a picture, and on the caption, he wrote, "I'm proud to be gay." 
Buddy did not only open up about his sexuality, but he also revealed his dating life.
At the end of June 2017, Buddy introduced his boyfriend, Logan Quintana, to his admirers and fans.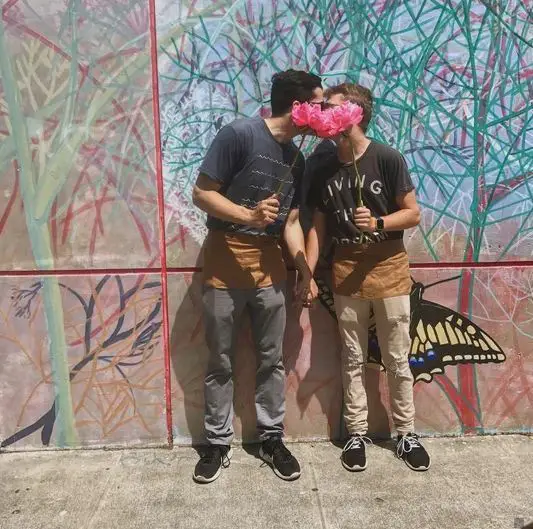 Buddy Handleson with her boyfriend, Logan Quintana (Photo: j-14.com)
Buddy shared an adorable picture with his boyfriend, where the two were seen kissing.
However, alongside receiving love and support, he also received some hate comments. 
Whatsoever, Buddy took the negative comment positively and moved on in his life.
Sadly, other than his intimate picture and the name of his boyfriend, nothing much is known. Whether Buddy and his boyfriend are still together or not is also not known. 
Net Worth
Buddy began his acting journey at the age of nine when he starred in the Disney show, Hannah Montana.
After that, he eventually started making appearances in several other TV series and movies.
Just by the age of 19, he has made a name for himself in the industry. As of now, he might have added a reasonable chuck to his net worth. 
---