What Actually Happened To Bill Nighy Hands & Fingers?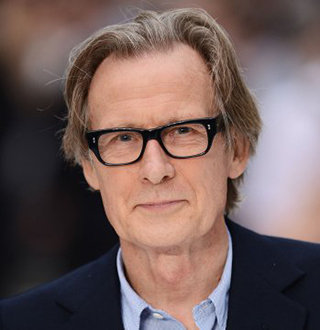 Award-winning British actor Bill Nighy is one of the veterans of the movie industry who started his professional acting career through the theater in the late 70s. 
Slowly and gradually, his fine acting display helped him to step into the television world too by the early 80s and by the 90s he was an established movie actor as well. 
Till date, Bill has starred in numerous successful movies and the movies he is mostly known for are Pirate Radio (2009), Underworld (2003), Love, Actually (2003), Harry Potter and the Deathly Hallows: Part 1 (2010) and Pirates of the Caribbean: Dead Man's Chest (2006). 
Similarly, the television series that he has been cast includes Doctor Who (2010), Kiss Me Kate (1999-2000), The Canterbury Tales (1998-2000) and many more. 
What Actually Happened To Bill Nighy Hands & Fingers?
Bill Nighy suffers from a disease called Dupuytren's Contractor, which causes some of his fingers to bend in towards the palm, which can make shaking hands with people difficult for him.
Interesting To Read: Jim Hoffer Bio, Net Worth, Age, Wife
Speaking about the Dupuytren's disease, it is caused by the build-up of cells in the palm, leading to small lumps under the skin and if the disease progresses, scar tissue composed of collagen builds up, forming a cord under the skin from the palm into one or more fingers. 
After one suffers from this disease, it gradually tightens and pulls the fingers towards the palm and the fingers can become stuck and unbending, which hinders people from performing simple tasks such as fastening a button, use cutlery or even shake hands.
Bill says, "Women can think I'm making some sort of vulgar proposition, so I try not to shake people's hand, or I explain that I suffer from this problem."
He started seeing the disease from his 20s but he did not perform any operation to get it cured because he was was a mess and was frightened to do so.
Personal Life
Bill Nighy has a daughter, Mary Nighy, with actress Diana Quick who used to be his partner in the past.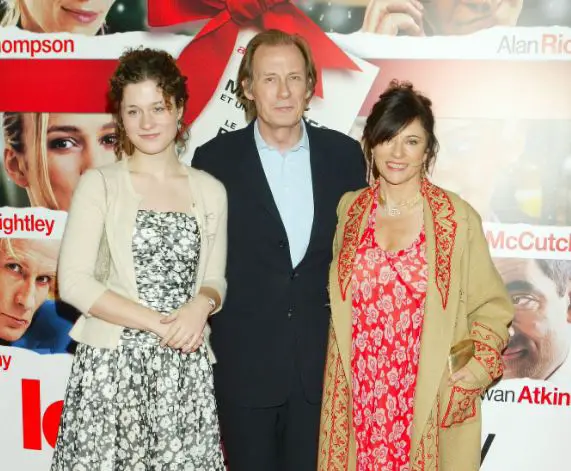 Bill Nighy poses with daughter Mary Nighy and Diana Quick on the premiere of "Love Actually" in Paris in November 2003 (Photo: Stephane Cardinale/Getty Images)
Mary was born in 1984 and is now pursuing a career in acting after graduating with honors from University College London. 
His Net Worth
Bill Nighy has secured a mammoth net worth of $8 million, as of 2018. 
Read More: Louise Minchin Wiki, Married, Husband, Divorce, Salary and Net Worth
And there is no doubt from where most of his net worth has come from, as he has earned a major percentage of his net worth from the paycheques that he has received from his work. Additionally, he has been serving as an actor for over 3 decades. 
His Bio: Age, Parents
Bill Nighy is currently 69 years of age, according to his date of birth, that being 12 December 1949. 
He was born in Caterham, England to his parents: his father, Alfred Martin Nighy, used to manage an automobile garage whereas his mother, Catherine Josephine, worked as a nurse for psychiatric patients.
---