The multitalented comedian Flula Borg, widely famous for his humorous YouTube content, made a funny video back in 2016 describing the kind of person one should date. But many are curious about what his dating life is like. 
Is Flula Borg Dating?
Although the German comedian keeps joking around about dating and relationships in YouTube videos, he never opened up about his love life for real. 
In one of the videos, listing out some weird dating rules, he tells in a serious tone to not date someone who does not like techno music, does not dance well, etc. Obviously, it's intended to make people laugh. But nobody really knows what his actual dating preferences are. 
Moreover, he once did a comedy skit with his on-screen girlfriend, Allison Raskin. In the skit, Borg plays an obedient boyfriend who helps out his girlfriend with everything, but as soon as she gives him the attention, he breaks up with her, thinking she was too clingy.   
However, not having spilled the beans on having a girlfriend or a partner, people began speculating him as gay. As Borg himself hasn't confirmed anything regarding his sexuality, the rumor remains baseless, and his relationship status still remains mysterious.  
Learn More About Borg's Career and Net Worth
Born to German parents, the 39-year-old is a well-known personality in Hollywood, appearing in movies and tv shows such as Pitch Perfect 2, The Good Place, and The Suicide Squad.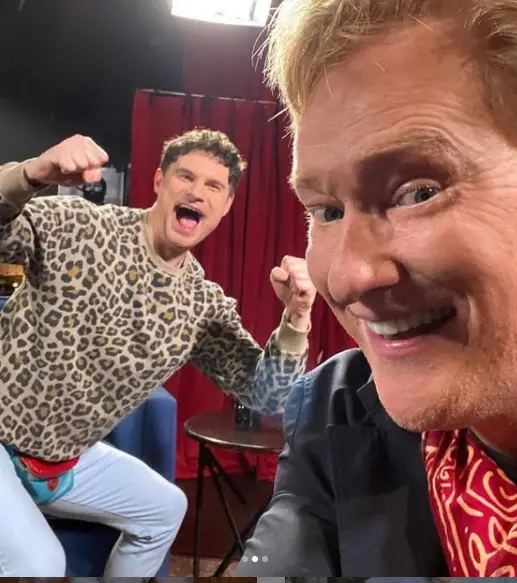 Flula Borg with Conan O'Brien. (Source: Instagram)
Besides, he even starred as a guest in the Conan show several times and gave Conan O'Brien a tour to a nude beach while in Germany.
The actor has had his career started in 2007 through his YouTube channel, and only later, around 2013, he made his tv debut. 
With more than 800 thousand subscribers on YouTube and over 200 thousand followers on Instagram, Borg uploads hilariously funny content as well as his EDM tracks and autotune videos. The most popular ones are the Covers and Auto Tune series, and the video Jennifer is a Party Pooper with millions of views. Also, his celebrity interviews are among his most-watched videos. 
According to a source, based on his success as an internet personality, actor, and musician, Flula is estimated to have earned a net worth of 2 million dollars.