Shannon Chan-Kent Married, Boyfriend, Affair, Ethnicity, Height, Family, Bio
Date: 05 Apr, 2018
To act as a multiple voices actress in the film industry is indeed a tricky thing. Canadian voice actress, Shannon Chant-Kent is famous for the roles of her voices and had garnered herself many fans.
She is not only a talented voice-over artist but also a phenomenal personality and striking -looking face. Thousand people die for her voice and are inquisitive to know about her life. If you too instantly fell in love with her voice and are curious to know about this beauty, scroll below to know more about Shannon Chant Kent.
Short Bio And Her Career
Shannon Chant-Kent was born on 23 September 1988 in Vancouver, Canada. Her family is from British Columbia. Having a height of 5 feet 1 inch (1.55 m) tall, she is known as Canadian voice actress and singer. She belongs to Asian ethnicity and possesses a Canadian nationality.
As an opera singer and her passion towards Soprano, she graduated with Bachelor's degree in Opera from the University of British Columbia in Vancouver, Canada. She also obtained her Master's degree in Opera from the same university.
Shannon has worked as the voice actress for different animations. Before coming to fame, in 2003, she had played additional voice roles in Sabrina's Secret Life. In Nickelodeon movie Spectacular! (2009), she co-starred as Janet with Canadian TV actor Matthew Bennet. Shannon is also known for her voice roles on My Little Pony: Friendship Is Magic (2010) as Silver Spoon, Littlest Pet Shop (2012) as Biskit twins and Slugterra (2012) as Beatrice "Trixie" Sting.
She has also played her roles as English dubbed voice actor in Japanese animes. In Black Lagoon: Roberta's Blood Trail, she played Fabiola Iglesias and the role of Christina Sierra in Mobile Suit Gundam 00 and its movie Mobile Suit Gundam 00 the Movie: A Wakening of the Trailblazer. She is also known as her role for Misa Amane from the famous Japanese anime series Death Note and its movie Death Note (2006 film) and Death Note 2.
Besides her role as the voice actress, Shannon had also performed in local theatre productions as well as Vancouver Metropolitan Orchestra as an opera singer.
Is Shannon Chant-Kent Married? Her Love Life Insight
Talking about her love life, she has been into an affair with the actor Jeremy Schuetze. Jeremy who is 5 feet 11 inches (1.8 m) tall is known for his movies The Flash (2014), The Man in the High Castle (2015) and When We Rise (2017).
The duos are seen on the social media site Instagram. On the occasion of Valentine's day, on 14 February 2014, Shannon revealed to her Instagram that she had been in love with Jeremy since she was13 years old.
On 29 April 2017, the couples were enjoying at the Beach at Birch Bay and had posted on Instagram.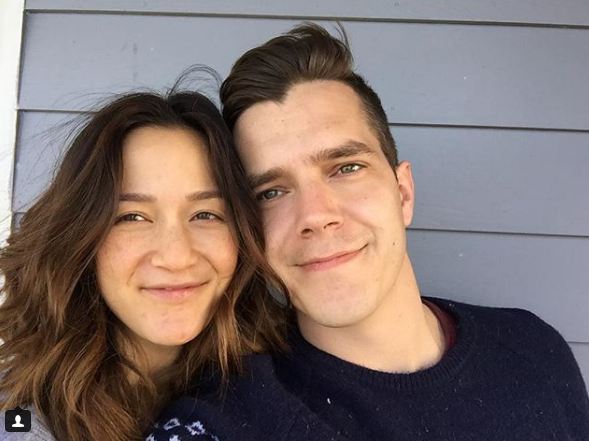 Shannon and her boyfriend, Jeremy at Birch Bay on 29 April 2017 (Photo Credit: Shanon Chant- Kent's Instagram)
On 26 June 2017, Shannon posted her boyfriend's photo on her Instagram and wished Jeremy's his birthday. Her love bondage has so much intensity that the famous voice actress tells that she loves him forever and as long as Shannon is living, she will continue loving Jeremy.
Also her boyfriend Jeremy had posted her adorable photo on 14 December 2017 on Instagram, saying he is very proud of Shannon for her achievements. Well, Shannon and Jeremy indeed are the favorite lovey-dovey couples, and the relationship of them shall intensify with the passing years till perpetuity.
---