Sandy Yawn Age & Married Status Unveiled; Bio Reveals
Date: 30 Jan, 2019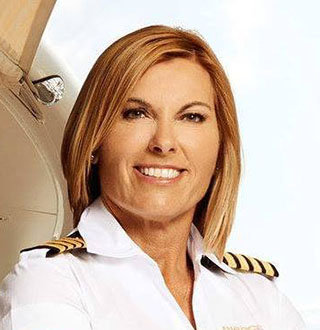 In the male-dominated industry, some of the women are rocking their job like a boss. Perfect epitome of woman power, Sandy Yawn has secured herself a position of the mega-yacht captain in a supposed male profession of the yachting industry. She is mostly known for her appearance in the reality TV show, Below Deck Mediterranean. But a successful career in the yachting industry is not all Sandy Yawn is about, she is also a philanthropist, a strong ocean advocate, and an advisor.
Sandy Yawn Bio, Age
Sandy Yawn celebrates her birthday on 23 February every year. She was born in 1965 in the United States according to her bio. She was raised in Bradenton on west coast Florida where she spent her teenage years washing boats at the beach. Since Sandy does not talk about her private life in interviews, the information about Sandy Yawn's family is not disclosed to the public.
Read Also: Chris Pfaff Bio: From Wife, Girlfriend To Net Worth | All Revealed
Sandy Yawn is a fighter. She has overcome few near-death experiences like a car accident, pirate invasion, and even a stage two cancer. Sandy also almost lost her life when one of her ships caught fire due to a malfunction in the engine. However, Sandy is a very positive person and feels that these near-death experiences have only made her stronger than before. She is very thankful for the unfortunate events that have made her the bold person she is today.
The yatch captain spends most of her time out in the sea. Given the nickname, 'Badass captain' by her co-workers, she is a believer of peace and practices daily yoga. At 53 years of age, Sandy Yawn has proved to all the stereotypes that a woman can lead any role if she wants to.
Her Career / Net Worth
Sandy Yawn has secured herself a good career in the media industry. Enjoying the height of her career, she takes on a lot of responsibilities. When Sandy was in Below Deck Mediterranean, Sandy got into a serious argument with her co-star, Hanna Ferrier. According to Sandy, she got agitated when Hanna spent a lot of unnecessary time out of the boat with the charter guests. The problem was so severe that the two could not bear to be in the same room, but they finally resolved the issue together.
You May Also Like: Kimbella Vanderhee Wiki: Married Life, Husband, Kids & More???????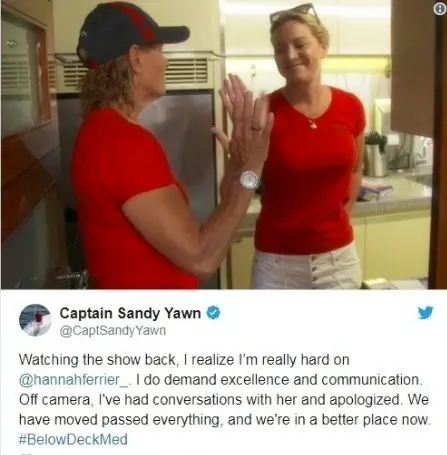 Sandy Yawn resolves her issues with her co-star Hannah Ferrier on 1 August 2018 (Photo: Sandy Yawn's Twitter)
Both Hanna and Sandy spoke to each other and aimed to solve the issue. Now they have both moved past the problem, working together on the show.
Given that Sandy is at the height of her career, she earns a salary of $50K per year. The fact that Sandy Yawn is a woman with a bold personality, but cool demeanor makes it clear why she deserves a substantial net worth.
Sandy Yawn Married To Partner Or Gay?
Sandy Yawn does not expose her love life on her social media like other stars. During an interview in 2018, Sandy said that she was neither married nor seeing anyone. She believes that her profession has made her dating life almost non-existent because it involves lots of traveling.
Discover: Dr. Disrespect Age 36 Divorce With wife? | Real Face & Name To Bio
According to her, distance makes one forget their sweetheart. Since she has to travel around the globe, into the sea as a part of her job, she is always busy.
Sandy also mentioned that she had a good dating life before she came to Europe for her voyage. Sandy loved meeting new people when she was in Los Angeles. However, that has changed since she is swamped and has not met anyone she wants to date.
The fact that Sandy has not revealed anything about her partner or possible married status has given birth to several speculations. People question her sexuality and suggest that she might be gay. Not surprisingly, she has not bothered to address the gay rumors.
---