Farnoosh Torabi Birthday, Age, Wedding, Husband, Children, Net Worth
Date: 24 Jun, 2017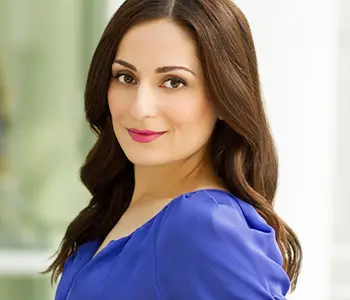 Farnoosh Torabi is an Iranian-American journalist, television personality, personal finance expert and an author who was born on February of 1980 in Worcester, Massachusetts. Farnoosh was born to Iranian parents. Torabi attended Harriton High School in suburban Philadelphia. Her exact birthday is not known till date.
She attended Pennsylvania State University and had a Bachelors of Science in Finance and International Business. She also has an MS in the subject of Journalism from Columbia University. She was named an Alumna of Distinction by Penn State University for the graduates under the age of 35 in 2010.
Farnoosh started her career as a researcher and reporter at a magazine called Money in the year 2003. She lived in New York City and served as a reporter and business producer at NY1 News from 2004 to 2006. From 2006 to 2009 she served as a financial correspondent for Jim Cramer`s TheStreet.com TV where she covered the economy, small business, the stock market and personal finance.
In the year 2008, she was appointed the financial correspondent on Real Simple, Real Life. In 2009, she became the host of SOAPnet`s program The Bank of Mom and Dad which is an adaptation of the reality series of BBC. On the same year, Farnoosh also published her book 'You're So Money: Live Rich Even When You're Not.' The book focuses on financial advice for young people. In 2010 she published her next book titled Psych Yourself Rich. It was published by FT Press.
Farnoosh joined Yahoo! Finance and started hosting a weekly video series entitled Financially Fit in 2010. The series aired till December 2013.
In 2014, Farnoosh published her third book titled When She Makes More: 10 Rules for Breadwinning Women. In the book, she candidly addresses how income imbalances affect relationships and family dynamics. She also presents a bold strategy to achieving happiness at work and home in the book.
Farnoosh launched the award-winning podcast called So Money on January 14, 2015. Farnoosh currently hosts the primetime series Follow the Leader by CNBC where she spends 72 hours embedded in the life of a different superstar entrepreneur to learn how this wildly successful businessperson ticks. The first season of the show premiered on April 6 of 2016.
Farnoosh's work and advice have been featured in the The Wall Street Journal, NY Times, USA Today, Redbook, Glamour, Fortune, Forbes, Time and Marie Claire. She's appeared on all major news and talk shows which include CNN, MSNBC, The View, Good Morning America and NBC`s Today Show.
Torabi is married to Tim Dussinger. Their wedding took place in Philadelphia, PA on June 16, 2012. Her husband Tim is a software engineer. The couple together has a son named Evan Kiani Evan was born on June 21, 2014. She announced that she was pregnant in 2013. She doesn`t have other children besides Evan. She is living a happy life, so there is no question of her divorce. Torabi`s net worth and salary have not been disclosed yet. She is active on social media site like Twitter.
---